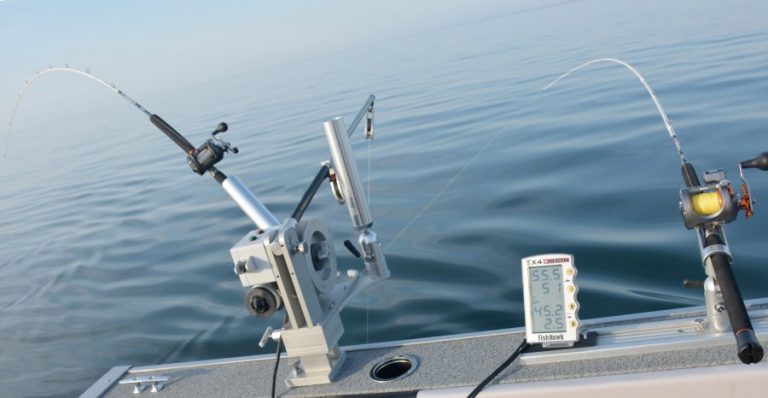 Quick Overview – 7 Best Trolling Reels
Trolling is a tactic of fishing from a moving or stationary vessel. It involves dragging a line behind it, with multiple lures or baits attached. It is an excellent method to cover a lot of water when hunting for predatory fish. This method of fishing is considered an ultimate challenge that can be dangerous sometimes. It absolutely requires special training and plenty of practice, as well as specific high-quality tackle that can handle the strongest targets. There is nothing more important than a specialized piece of gear you use for this method of fishing – a trolling reel. Do some good research and put a lot of thought and care when picking out a trolling reel. It will increase your chances of success in fishing to a large extent.
7 Best Trolling Reels Compared

When selecting the right trolling reel, consider the most durable and rigid models. Trolling requires using large size baits, prospecting for big hard-running fish, handling depths of water with ease, adjusting to speed depending on currents you cross, and preventing frequent underwater tangles. When purchasing a reel, study drag system characteristics and reel capacity.
Typically baitcasting reels are used for offshore trolling. According to professional anglers, baitcasters are more convenient because they do not feature a low-profile spool and dynamic braking. In addition, some modified baitcasters are equipped with a built-in line counter.
Main Technical Parameters
Whatever type of trolling reel you are looking for — considering your budget and personal preferences in design — keep in mind the following mandatory technical parameters:
Resistance and durability to hold a greater amount of loads on the fishing line. The best trolling reels are those with machined metal bodies, built to prevent premature failure and wear and tear.
Smooth brake performance. You want a drag that provides smooth operation with no jerks. The accurate setting of a drag system allows for instant fish hooking and fast line release. Most anglers find it very convenient to use the star drag adjustments, positioned next to the reel handle. This parameter is beyond important because fish does not bite close to the vessel. With open water trolling, you might let the fishing line to pay out up to 50 m (164 feet) deep and with shallow water, you might pay out 5 to 20 m (16-64 feet) of the fishing line.
Large line capacity spool. The trolling reel must hold up no less than 200 m (656 feet) of the fishing line if you fish in a river. It will be enough for the entire fishing season even If you take frequent prolonged trips. If you prefer sea fishing and want to bring large pelagic fish, consider that you might have to let out up to 1 km (0.6 miles) of the fishing line. If sea fishing is your preference, the load capacity of the trolling reel must start at 10 kg (22 lbs).
The fishing line guide with ball bearing. This component is important, as the fishing line needs to be evenly spooled back onto the reel to avoid entangling.
Baitcliker, or line alarm, provides an audible signal. It is an optional but very convenient extra feature that alerts the angler to the presence of tension applied by a fish (hopefully!).
When selecting the right trolling reel, consider the reputation of a manufacturer and the price of the product. Unknown brands, as well as the lower price tags on the products, typically indicate poor quality. Simply said, cheap products might fail when the most crucial moment comes.
Selection Criteria of Trolling Reel

You select a reel mostly based on your own preferences defined by your habits and priorities, as well as by acquired trolling techniques and species you intend on targeting. To sum up, when picking out a trolling reel, the following are the key criteria to consider:
Compact design.
A long-lasting durable material used to manufacture the body of the reel and its moving parts.
Easy in operation. For productive trolling, it is crucial for a fisherman to make a minimum of moves when setting up and operating the gear. It is especially important for those fishermen that go solo on a fishing expedition and have to control the vessel when trolling. The trolling reel must be stiff and rigid.
When choosing a reel, consider what hand is your dominant as most of the time an angler has to use one hand to reel in the fish and the other to steer the boat. Choose a model–for right-handed or left-handed–based on what hand you use to steer the boat. That said, the left-handed fishermen will be more comfortable to operate the reels with a right-handed reel position and vice versa.
A built-in line counter is an extra feature, but a very important one. It allows increasing the catch rate by determining accurately the most productive fishing area and casting baits at precise depths – exactly where fish are holding.
7 Best Trolling Reels Compared
Penn Squall LevelWind Review

Featuring a level winder and a budget-friendly price tag, the Penn Squall is an excellent baitcasting reel for a novice tuna angler. Squall™ LevelWind is constructed to withstand the harshest conditions and wear. The device is equipped with a new feature for better castability—line capacity rings—to indicate how much line is out. The Penn Squall features the level winder to evenly distribute the line and prevent twists. The reel is designed with a braid-ready spool so that you can attach the line directly to the spool. Powerful gearings and 2 ball bearings allow for quiet and smooth performance while an anti-reverse (roller clutch) bearing does not let the reel to move backwards and engages the drag. Drag material made of the HT-100™ carbon fiber fabric provides strength even under the heaviest loads.
Pros: Elaborate drag equipment is perfect when using oversized baits, adjusting speed, and making it into turns. The intensive line capacity makes it ideal for spooling.
Cons: Some reviewers would like to have the optional line counter on the bigger size versions.
Abu Garcia Ambassadeur Catfish Review

The Abu Garcia reel boasts a unique design with components engineered specifically for catmen. The main features include: round baitcasting reel built purposefully for catching big catfish; Carbon Matrix drag system for the reel to run trouble-free when providing extreme pressure and delivering an impressively smooth performance with a maximum drag capacity; 3 shielded BB and 1 RB made of stainless steel; 6-pin centrifugal brake that provides full brake resistance throughout the entire cast; power handle that allows for more leverage to reel in the strongest catfish.
Pros: Longer casts without backlash; velvety smooth retrieve; powerful drag; sturdy well built components.
Cons: Some reviewers noted the flimsiness of the clicker switch.
Penn Squall Lever Drag 2-Speed Trolling Fishing Reel Review

If you prefer powerful performance in a sleek package, you must go with the PENN® Squall™ Reel. It is a versatile and reliable saltwater fishing product. PENN® Squall™ comes in 3 sizes. This reel is made of a new pretreated material that gives that silky smooth feel from initial start-up through the entire drag run. PENN® Squall™ offers forged machined line capacity rings allowing you to monitor the spool. The Quick-Shift™ 2-speed mechanism makes it possible to shift from low to high gear and vice versa. Frames and side plates of solid graphite make this device corrosion-resistant and lightweight.
Pros: Durable, quick on the retrieve, affordable; powerful drag; solid graphite construction. It can be used for the largest species of fish.
Cons: Few reviewers mentioned that a reel occasionally skips in the high gear. Bulky.
Okuma Cold Water Linecounter Trolling Reel Review

If you are one lucky Okuma owner, you will be able to duplicate the pattern of a lure at the intended depth when trolling deep water for predatory fish. Okuma is constructed upon high-quality internal components including, oversized machine cut brass drive and pinion, dual—mechanical and roller bearing—anti-reverse system, 2 stainless steel BB and one infinite RB. The internal parts are held securely in place by the mechanical stabilization system that maintains the alignment of all gears and shafts. The reel frame and side plates are made to be corrosion proof. The handle arm with an Ergo rubber grip is made of the stamped aluminum. The Cold Water series offers Clear View Technology with an anti-fogging linecounter system to measure line (in feet).
Pros: The line counter is very accurate. Drag system, gears, and retrieval are second to none.
Cons: Few systems are somewhat puzzling. Frequent maintenance required.​
SHIMANO TEKOTA Levelwind Trolling Reel Review

A Shimano Tekota reel is available in several different sizes and line capacities. These reels feature robust construction and exceptional features. Shimano Tekota is an excellent choice for anglers who troll in both freshwater and saltwater. Great Lakes fishermen will love the line counter and saltwater fans will appreciate the power. These reels are engineered to last several decades because of anodized aluminum frames, powerful drag equipment, well-made sturdy handles with no-slip Septon grips, sizable clickers. This reel is perfect for use with any trolling technique, like flat-lining, downrigging, divers. The Tekota line counters are well designed and are especially useful for trolling as this technique calls for exact amounts of line. An easy-access reset button is protected against accidental use.
Pros: Superbly smooth, yet strong; features intensive line capacity.
Cons: Many reviewers wish for the left side covers to be metal.
GOMEXUS Saltwater/2 Speed Bluefin Yellowfin Tuna Game Reel Review

The design of a Gomexus trolling reel makes it a perfect match for a seasoned offshore angler. These reels are ideal for fishing for giant fish, the likes of bluefin tuna, wild salmon, wahoo, Atlantic sturgeon, you name it. Gomexus features a strong HT100 drag system and maximum strike rating which results in a smoother startup and almost no hesitation. A unique two-speed drag system allows for enhanced cranking power and quick line retrieval. Spools with intensive line capacities make Gomexus perfect for long-range fishing.
Pros: Reliable and solid with excellent performance, flawless finish, quality rod clamp, handy clicker.
Cons: Quite heavy. Complaints of a reel getting locked up sometimes.
Shimano TLD Review

A Shimano reel with its powerful, well-constructed, and portable body offers you a lot of advantages to struggling with enormous fish. Shimano features 4 saltwater-resistant, anti-corrosion bearings for smoother action, a sturdy lever drag, intensive line efficiency. 2-speed flexibility enables you to change the gear from the higher to the lower and vice versa. Genuine graphite frames and side plates, powerful spools manufactured of anodized aluminum, ergonomic power handle arm, classy clicker make these reels lightweight yet productive and durable, compatible for fishing in saltwater, able to handle tough fights.
Pros: Quality parts made of stainless steel; long-lasting; easy maintenance.
Cons: A bit expensive; twisting under heavy pressure.