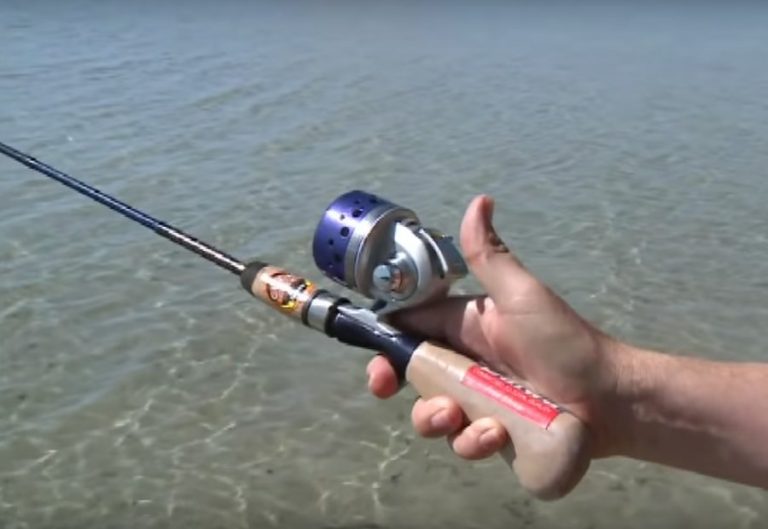 Below find our Quick Overview of the 11 Best Spincast Fishing Reels to choose from
Spincast Reel Comparison Table
Which Spincast Reel Would Be Best For You For The Money
Protection of the fishing line and the mechanism for laying it on the spool from exposure to the external environment of water, dirt, wind, sunlight, as well as from accidental unauthorized contacts during the fishing process, which often served as the cause of its failure – these were the main criteria and reasons for manufacturers to start making of the inertia-free reels and provide it with a protective casing. This is how spincast reels appeared, by the principle of operation it is uniquely without the inertia with its advantages and disadvantages.
The location of the through-hole in the center of the protective casing, closing and holding the fishing line on all sides, allowed us to maintain a constant feed angle, facilitating unhindered stacking on the drum. What cannot be said about spinning reels with open face principle used, in which any inaccuracy in the direction of filing the fishing line on the roller laying machine, leads to unpleasant consequences.
Measures to protect the mechanism have simplified and facilitated the process of operating the casting reel with a closed spool, so much so that it has become available in circulation even for children and people with disabilities. Not requiring special skills and technology of use, the reel with a closed spool, has received deserved popularity among anglers. Today it is a popular high-quality, reliable and most importantly relatively inexpensive type of the reel.
How Spincast Reels Work
The spincast reel is placed on top of the rod.

The principle of operation is very simple. The line passes through a hole in the front cover (1) and is wound on a fixed spool (2) using a flywheel (3) with a pin (4), which is, in fact, the laying par. There are models with a movable spool (back and forth, as in the inertia-free reels).
We press the button (trigger, as in the picture) – the pin sinks, the flywheel extends slightly forward … and lo and behold! … the fishing line descends through the exit hole completely without resistance, and regardless of the section (residual deformation does not go away, but is not essential).
How to Cast. Ease of Use – the Benefit for Beginners
When the button is held down, the fishing line is held, free descent – with a simple press, when you turn the knob, the reel switches to the winding mode.
The front cover protects critical components in this respect from contamination. But not only that. It completely eliminates the discharge of loops, beards, windings in wrong direction and any other charms of "meat grinders". You can get a closed reel in only one way: turn off the anti-reverse and twist in the other direction, and this is not always the case. Especially you would start to appreciate these qualities at night while fishing for catfish.
Pay attention to the video: hold the button at the time of casting. This is where the similarity with the multiplier appears, but instead of holding the finger with the cord (wet and cold when it is late autumn) here you will use the button. Retrieval can be slowed down by pressing the same button. This combines spincasting reels and multipliers, that is the technique of fishing, the cast in which only one hand is involved.
Basic Pros:
As for their natural drag feature, spincast reels can be compared with multipliers, but they are greater in their reliability and stay working after longer periods of usage. No magic here! The traditional relatively low gear ratio of the gearbox, the small inertia of the rotor and the relatively small shoulder of the force applied to the main axis make these reels virtually immortal. Spincast reels never went pricey, they are relatively simple by construction, need no precise adjustments like multipliers, for example.
What to Look for When Buying a Saltwater Spincast Reel
Always pick your spincast reel from among those that are made of durable and strong metal for the enhanced longevity of the reel.
Pick the reel with stainless steel bearings to withstand saltwater environments and circumstances. High-count ball-bearing system would be a perfect choice! Take your time and consider the options of not less than 2-4 bearing count.
As a matter of fact, spincast reels are the cheapest ones on the market due to their simple classic design, the latter being greatly appreciated by most anglers.
Make sure you chose a metal reel rather than plastic! Stainless steel or aluminium will better withstand saltwater environments, but at the same time do not let cheapest reels tempt you. You can be very much and soon upset by the results. Pick the cheap ones only in case you are planning to please your kid who may decide about becoming an angler.
Who Makes the Best Spincast Reel
Invented long ago – the first series were released in 1949 by the company ZEBCO (Zero Hour Bomb Company). Today, the leading manufacturers are: Zebco, Daiwa, Shimano, Abu Garcia, Ryobi.
Spincast Reel Reviews
To feel on the safe side, read on, for your comfort we have collected the below Reviews
Zebco Omega Pro Review – Best Spincast Reel Ever Made

This reel makes for a virtually a great choice as a fishing reel format since manufacturers sought to offer their most versatile operation unit with both options – left hand or right-hand operation – integrated here, as well as it is provided with a specific line guide together with the unique drag system engineered to specifically create your best and ultimately balanced fishing device.
A super reel indeed, optimal solution for both hand operators and what is even more exciting – goes for the very reasonable money.
Pros:
first, it is operated by only a push of the thumb button
style and ergonomics weld together – only best quality advanced materials used
high performance, smooth and stable drag
sturdy and safe aluminum cover
really lightweight item
stainless steel 7 bearing system
state-of-the-art spool system
gear with coating from unbreakable brass
guard from rubber to protect the reel against dust and water
line guide from strong ceramic
left- or right-hand operation integrity
Cons:
during operation its drag adjustment may come sensitive
Best Spincast Reel for Crappie. Pflueger President Spincast Review

The reel is a four-bearing type spincast reel of the visually attractive design and progressive aluminium body. It enjoys the ultimately safe feature of anti-reverse functioning, which is built-in and makes this type reel a perfect solution to enable your smooth and safe casting experience even more comfortable! Both main components and reel shaft were engineered and manufactured as stainless steel, corrosive – resistant components to ensure the integrity and versatile operation of the reel at any environment – be it salt- or fresh waters.
A specifically added release button will provide for your easy and accurate casting for a great distance when fishing, thus bringing you more fish back from longer distances!
Pros:
makes for a perfect drag for so many hours of fishing
reasonable price for perfect quality and exclusive design
ultimately smooth operation granted
solid construction featuring durability and reliability of the whole
Cons:
if treated rough may break during the first year of use. Immediate manufacturer's response on demand and in emergencies though
Zebco ZB310BX3 Bullet Best Catfish Spincast Reel Review

This model of a spincast reel has been recently reported as that being one of the best and naturally fastest within its class. The anglers praise the extremely comfortable grip assured thru its soft-padded handle, they also admire the all-weather construction. The reel can be quick and easy repositioned from left-hand to right-hand settings which option makes it for an ultimate fishing device. Specially added front cover greatly adds to its durability thus prolonging the service life due to its double anodized finishing and forged aluminum composition. You should also note the special ZeroFriction system used when designing its bearing: here it was a pick-up pin principle applied to ensure your smooth and reliable casting operation. This easy action and comfortable feeling makes the device an optimal pick for a newbie: long distance casting and total control over the line granted! And we shall not forget to mention the revolutionary 8 + clutch 9-bearing CNC-processed brass block.
Pros:
universal right- or left-hand reel retrieval option
ZeroFriction pin design based on the dual-bearing support principle
front cover machined from aluminum then double anodized
9-bearing anti-reverse mechanical system
exclusive versatility due to its easy left-hand or right-hand retrieve
modern attractive design
perfect for long-distance casting
a novice choice due to its extremely intuitive operation to learn at once
Cons:
some anglers commented on the weight, not the lightest thing
a few cases reported to reveal individual line sticking failures
Best Spincast Reel for Bass: Zebco ZO3,10,BX3 Omega Z03 Review

The manufacturer had definitely the angler in mind while designing this reel; and again, here is the most comfortable feature integrated – the option to combine either right hand or left-hand operation depending on your preference. Its high-performing bearing system got the extensively strong and durable aluminum cover. The reel's smooth and safe line movement is here guaranteed by the presence of a system with 7 bearings. All these demonstrate the effort manufacturers put into this high-performing spincast reel to provide for your best fishing experience ever. Your previous experience doesn't matter with such a perfectly engineered reel.
Pros:
unique 7- bearing high-performing system
an ergonomic fixed rubber covering on the thumb button
high-performance with smooth-and-reliable feature disc drag – more than one!
aluminium covers made from aircraft grade metal
powerful lightweight model
spool system allowing its quick change
progressive and ergonomic design overall
extremely durable investment-protecting design
Cons:
Could be faster on recovery operation, a bit slower action when compared with rivals
Daiwa Goldcast Review: Best Mini Spincast Reel

Getting this reel you will enjoy all the features characteristic of the great quality Japanese item. It was back in 1995 that this Japanese company started to deliver the finest fishing gears to the market. This model reel constitutes one of the best freshwater/saltwater reel.
Daiwa has been recently reported as the reliable manufacturer offering best and moderately priced products, spincast reels by Daiwa proved to be instantly activated on the spot to do their perfect job at anytime and anywhere. Moreover, the appearance of this model remains minimalistic although extremely functional.
Pros:
a great classical reel at affordable price
universally performing spincast reel for both freshwater/saltwater fishing
unique oscillating spool applied to help you load the line smoothly and stably
attractive minimalistic – open frame – design
a touch of artistry here is the gold-colored cover cap
Cons:
its single-bearing operation is what's a bit behind the times
Your Best & Ultralight Spincast Reel: Pflueger Trion Review

This reel is a bit different from all the previously reviewed. This is a triggerspin reel! No doubt, the major advantage of this like with any other triggerspin items is the finger lever which well extends in front of the reel up. Being like that, it provides for easy and simple casting due to the operation triggered by your index finger, not your thumb. Another great feature is that the reel is positioned upside down, thus hanging like that on the rod, so water drips off the line and, sure, out of the cone thru the porting. No more dripping all over your hands!
Pros:
casting process now is easy and simple
action easily performed by operating the trigger with your index finger
comfort with this triggerspin reel assured due to the exclusive ported front cone
strong metal gears and unique titanium pins; reliable and durable construction
durable and reliable aluminum frame housing for longer service life
simple adjustable by thumb drag setting accessed from the reel's left side
Abu Garcia Abumatic Review: Perfect for the Beginner

Anglers admire Abu Garcia more than any other brands available on the market. The products offered by this company are usually improved classical items or standard items with a twist. This reel constitutes the well-known and favourite small, lightweight classic function spincast reel but with a modern look.
Although unlike many other classic look spincast reels so far, a drag setting that is adjusted by a wheel next to the crank has been installed on the Abu Garcia Abumatic.
This model will be loved by all those who prefer a single handle oblong grip crank.
Pros:
classic but "with a twist" design
drag setting to be adjusted by a wheel that is located next to the crank
relatively small, lightweight spincast reel
carbon matrix drag system which uses carbon-based friction discs to enable slight performance upgrade, slight advantage over felt drag discs
Cons:
could be a bit harder to adjust than the top mounted friction wheel style setting
Zebco 33 Authentic Review: Your Best Low-Cost Spincast Reel Available

This is the reel model to demonstrate the most recent improvements to the previous versions and make fishing even easier and more comfortable. Much more enhanced casting and line management operation with the improved retrieval and positive control applied here. The more solid connection – directly to the body of the reel – has been obtain via redesign and upgrade of the simple thumb button mechanism, in this way it has been separated from the rear cover. Thus a new type support has been effectively created to withstand greater wear and tear to prolong its service life. Another core positive feature is the usage of the most advanced materials, professional steel on the bearings drive. No rival system before ever adopted such a progressive drag on the economy class spin with great precision and at so low price for that.
The feature of a reversible on both – left- and right hand side constitutes the another warmly welcomed characteristic for this perfect reel to enhance beginners and novices experience.
Pros:
quick set strong durable ball-bearing anti-reverse gear system adopted
extreme durability due to the brushed stainless steel
progressive lightweight (graphite) frame and metal handle with rubber knobs ultimate comfort solution
versatility due to the combined right or left-hand retrieve operation
micro drag system option available
easy smooth and long-distance casting
absolutely great for beginners
Cons:
some find it pretty heavy and bulky item on the rod
looks a bit cheaply-made by its appearance as some anglers demand
Daiwa Underspin as Best Spincast/Trigger Spincast Reel Review

There are always guys who prefer light and ultra-light gear most of all. Should you belong to this impressively large group of anglers, quality spincasting reels capable of drawing tiny lures like the Underspin could be your best choice.
There is a special forward-forcing lever triggered by a single finger push to release the underspin. When this action is combined with the reel of a special bottom-mounted configuration, you will get a spincasting reel free of any backlash or line twist failures.
Note the extra-rigid aluminium alloy construction together with rugged metal gears.
Longer casts and outstanding performance are obtained thru optimal construction combining ball bearing drive, oversized line aperture, as well as the unique rotating titanium line pickup, thus greatly contributing in building an excellent hook set all together. It also comes in package with preliminary wound on line of premium quality, with its capacity of 75 yards per every 8 pounds.
Pros:
high-performance and reliability reel
considerably increased casting performance
totally compatible for use with wide range rods including fly or noodle rods
Zebco/Quantum 33MCKA, 04C, CP3 Zebco/Quantum, 33 Micro Review

Mics for kids! Actually tiny and absolutely great reel for kids or the anglers of smaller shape and stature just to start with or for a perfect fishing adventure.
Surprisingly fine quality and you will definitely love the way the reel is built overall. Ultimately smooth action and perfect casting operation. Hey, you may feel like some of your professional reels look overpriced! Excellent to use as the instant spincast reel out of the box. The reel looks and feels extremely smooth and small, as well as light weight, its button is an easy push for kids. Handle is made from metal, no plastic used. Your children will like the special feature – the unique "bite indicator", the latter is cool for the use by kids frequently leaving the rod unattended.
Pros:
comfortable drag and cast due to the ball-bearing drive applied
unique and safe quickset anti-reverse system construction
built-in "bite-alert" device for your perfect performance
steel covers engineered from strong brushed stainless steel
adjustable drag using the special MicroFine dial
overall lightweight (made from graphite) support frame
universally changeable retrieve (right or left hand) action
ceramic pickup pins of dual configuration
literally best micro-spincast reels on the market
Zebco 33KPL,10C,BX6 33 Platinum 5 Ball Bearing Review

One more great spincast reel from the company Zebco. This model is even cheaper than the Omega Z03PRO, although its performance is neither worse nor rough. Its operation is also extremely speedy. Should you be the one who prefers using fishing spoons, spinner baits, as well as any lures that need to be casted/reeled fast, this model will definitely do its perfect job.
Pros:
5-ball bearings block helps to make this reel a perfect smoothly reeling machine!
the fastest spincast reel on the market
easily adjustable handle; can be switched from left or right hand
metal handle and body for ultimate durability and lifetime performance
pre-spooled reel that comes with fine line
reported as one of the best medium action spincast reel for children