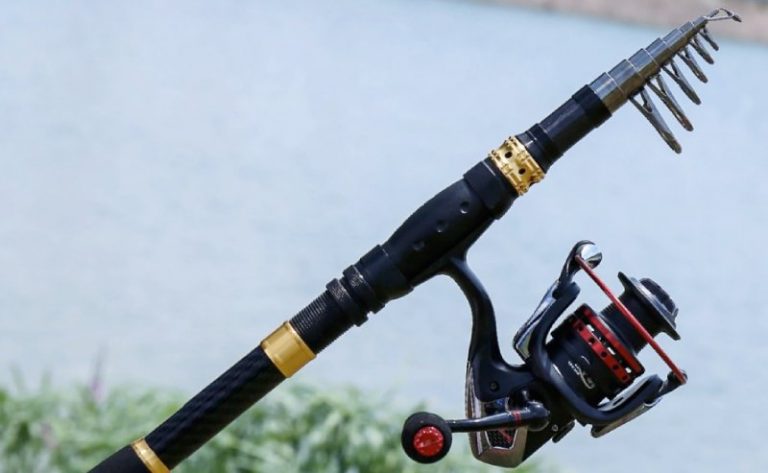 Telescopic fishing rods work perfectly for the beginner spinners who are not familiar yet with the furnisse of the fishing process and want to gain experience in operating this type of rods that are usually inferior to the traditional fishing rods in terms of overall technical performance. This type of fishing gear permits certain negligence when it comes to storage and operation.
How Do Professional Anglers Use Telescopic Rods?
Seasoned anglers in the world of predatory fish mostly use portable telescopic fishing rods to rapidly explore new and unknown waters when coming across random locations that seem productive and fishable for them. This article provides insight into the basics of choosing a proper telescopic spinning rod, outlines the main criteria for product selection, and presents the most popular models of the compact telescopic fishing rods currently available on the market.
Quick Overview – 10 Telescopic Fishing Rods
Telescopic Rods Compared
Telescopic Rod: Pros and Cons
The greatest undeniable advantage of a telescopic fishing rod versus traditional fishing poles—and both experienced and beginner anglers agree upon this statement—is its ability to fold down into a compact size. The standout advantage is that the telescopic fishing rod, when fully collapsed, does not exceed 50 cm (19.7 in). It can be easily transported daily on the back of a car when space concern is an issue. In addition, when completely collapsed, the thinnest blanks of the rod are nested inside the thicker sections and are ultimately protected by a sturdy upper blank, alleviating concerns about minor defects in the blank and a possible random quiver-type damage during transportation.
Telescopic Rod as an Alternative Option to Expensive Traditional Fishing Rod
Price is an important factor to consider when thinking about buying this kind of products. The telescopic fishing rods are not expensive. This is a positive key parameter. Due to specific construction characteristics, numerous pieces on the pole, performance parameters of the telescopic rod are indistinct in a wide range of values. It makes the rod hard and tough, although close to a traditionally crafted rod, which can be seen as an advantage. No matter how much we praise the telescopic fishing tool, it is nowhere even near the level of performance the traditionally crafted fishing rods provide when it comes to accuracy and delicacy of the fishing process. Numerous segments on the telescopic rod does not allow for the structural uniformity of the pole, and therefore, affects its overall performance, causing low sensitivity and responsiveness.
Telescopic Fishing Rod Does not Allow for Long Casting Distance and Durability
Large number of segments on the rod does not allow to consider this type of fishing rods reliable and durable. Further, the telescopic fishing rods are much heavier than the traditional fishing rods.
To summarize, the compact size of this fishing tool allows for easy transportation and storage. It is a great introduction into the world of spinner fishing for beginners, but it brings down sensitivity, responsiveness, accurate casting, and overall quality of the fishing process.
Selection Criteria
There is no doubt about it: when shopping around for fishing equipment, we go for a product of better quality, we want to purchase it from a well-known brand, at a reliable tackle store. When selecting a telescopic fishing rod, start by checking connections between the segments. Their number can range from three to nine. Having laid the rod out full length, shake it to test its sturdiness. If it is a good quality product, there is no extra play and no extra sound. If a rod is of good quality, an angler feels the tension of the gear while the motion is not compromised.
Important! Check how precisely the rings on the rod are positioned. The rings should not move when the rod is extended, and should not come close to each other and twist when the rod is folded down.
Our best suggestion is to choose a spinning rod made of cork material on handle and a reel seat made out of light metal to reduce the weight of the gear. After visual inspection for any visible defects, determine for yourself the working parameters of the spinning rod based on intended fishing purposes. An angler should think about the optimal length of the rod, as well as about the material it is made of, action, and test parameters. These values ​​depend on the type of bait to be used, condition of the waters and shoreline that will affect casting, intensity and method of fishing. Further we will take a closer look at the selection criteria to help you navigate through the options currently available on the market.
Construction Materials
Like other fishing equipment, telescopic spinning rods are constructed out of composite plastic materials that differ by various components used to make polymers. For a telescopic rod, an angler will mostly find them crafted out of fiberglass, graphite, or often a combination of the two. Telescopic rods made of fiberglass give durability and strength, they are also flexible enough not to break under pressure. However, a big drawback of fiberglass is its weight. Telescopic spinning rods made of fiberglass are heavy and quickly make the angler's hand tired, although their robustness helps fighting aggressive fish and positively affects the casting distance.
Fishing rod made of carbon fiber is much lighter than the one made of fiberglass; it is more sensitive and more balanced, however fragile. This kind of equipment requires careful maintenance of the blank. Sand that gets onto the fishing rod may scratch the surface of the blank when folding the pieces of the rod down and will make the fishing rod useless. The telescopic rods made of carbon fiber are also expensive.
The best advice is to buy a spinning rod crafted from composite materials, with characteristics that fall in between the above mentioned. That way you will get a reliable product, resistant to rough operating conditions, and it's price will be within your budget.
Test Parameters
Selecting test parameters ​​of a telescopic rod starts with choice of lure that an angler most often uses when fishing. Let us put it right away: it's unlikely that you can find an ultralight rod in this category, but there are plenty of medium heavy and heavy telescopic rods. So, if planning to purchase a telescopic rod, shop around the medium heavy and heavy rods.
The test parameters of ​​ telescopic rods are usually shown in grams, ounces or pounds. The range indicated on the blank shows the optimal weight of lures to be used for fishing. The upper limit weight should not be neglected, avoid overloading the gear at any times as the pole is already sensitive enough due to the numerous connections. For the medium heavy category, the optimal range of test parameters is 10-30 grams. Test parameters of a heavier and more powerful fishing rod are to be 20-50 grams. The stated parameters will be adequate for most of the lures used when fishing for freshwater predators.
Length
Telescopic fishing rod should be selected considering the fishing environments you are planning to fish in. When talking about fishing environments we mean the intended fishing location as well. The shore fishing differ in many ways from the boat fishing. Further, if we look into the shore fishing itself, it also has its specifics that differ from one location to another. The conditions for shore fishing vary by the structure and the presence of vegetation in the shoreline where you will cast. If the fishing location is a clean coast, close to water, no vegetation, reeds, bushes, and trees with crowns hanging over the waterline, pick up a fishing rod with the longest blank for better casting. If this is the case, there will be no obstacles preventing you to make a good swing when casting. It would be very inconvenient to cast near trees, bushes, or reeds if a rod is too long as the fishing line can get entangled there.
The boat fishing is limited by the boat size. The casting distance is not an important factor for boat fishing as the boat gives a fisherman an instant access to a fishable area. So, if the intention is to do boat fishing or fishing in other tight spaces, length of telescopic rods must be within 1.6 m to 2 m (5.3 ft 6.6 ft). If fishing at ideal locations, the blank of the rod must be within 2.1 m to 2.7 m (6.9 ft to 8.8 ft).
Important! Long telescopic fishing rods are flimsy and break down fast as a result of inherent lufts in the connections of the sections.
Action
The ability of a blank to flex when casting without impact to its strength is called action. There are three main characteristics of fishing rods by this parameter: fast, medium, and slow action. In order to choose a spinning rod by the action, the animation lure test should be done.
Important! The harder the blank is, the easier it is to control any play happening with wobbler, silicone lure, and spoon hook.
Said that, it is more difficult however to retrieve large fish with a hard rod. The hard pole, not able to absorb sudden rush of fish, can snap because of the construction characteristics and especially because of the numerous sections used to manufacture the blank. Most telescopic rods will be in the medium action range. Otherwise it will be challenging to get a perfect balance for a rod with a fast or slow action range. Telescopic rods in the medium action range are universal in application and allow you to work comfortably and efficiently with many types of baits without being worried of breaking the rod. A fishing rod of average test is adequate for the most fishing purposes.
Rating of the Best Telescopic Fishing Rods
Here we will be reviewing the top rated telescopic fishing rods that over so many years have provided fishermen with reliability, portability, and confidence in excellent fishing experience. When choosing a certain fishing rod for yourself, consider the following models that have been proven as the best by long fishing practices.
Shimano Exage BX STC Mini – Review

The editor's choice is Shimano Exage Mini Telespin. This is a portable go-anywhere model, small in size, lightweight, it easily unfolds for impromptu fishing. Reliable ring fixtures and ergonomic shape of cork handle make it even more popular.
I was not putting much hope on this rod in terms of action. The first outing was fishing bait in a small river, both drifting and ledger fishing with lightweight. The rod was sensitive enough to detect light bites. It was also able to handle multiple species of more aggressive fish, like channel catfish, bowfin, and silver redhorse.
When taken down into three pieces and packed in its protective case, it fits easily in a regular backpack or carry-on. It even accommodates a reel and some small tackle.
PLUSINNO Retractable Fishing Pole Rod – Review

This pole is just awesome! The case is compact to protect all the individual parts of the device. It is very appealing that the company makes everything fit snugly, there is no wasted room and the parts are well secured.
This fishing rod itself is superbly high-quality. On my first outing I was so surprised, in a good way, with how amazing the rod feels and works. The fishing instrument is very durable and part of the reason I purchased it was that it was crafted out of fiberglass. For me it is the best construction material to make modern day fishing rods.
If you are shopping around and contemplating to buy a reliable fishing rod I would highly recommend this one. I have used it and it impressed me with its performance.
Sougayilang 24 Ton Carbon Fiber, Ultralight Fishing Pole for Travel Surf – Review

I was concerned about the performance and quality of this product, but Sougayilang proved to be a fantastic item. The sections of the rod are loose, the manufacturer provides you with a case to pack all the pieces, and you are ready to go. I bought it because of its compact size, to feel comfortable when traveling, but I will assure you that this Sougayilang rod will be my main tool for most of my fishing purposes.
By now I have not landed any large fish with it yet. Size of the Sougayilang rod works perfectly for any unplanned fishing outing. It was not challenging to put it together even for the first time. This rod is constructed of graphite. It feels very nice in my hand. It has decent action to use lures, artificial baits.
One thing I really have an objection to is the metal decorative object on the reel seat. It is bothersome, positioned exactly where I usually put finger when casting.
Sougayilang 24 Ton Carbon Fiber Ultralight Fishing Pole with CNC Reel Seat, Portable Retractable Handle – Review

I ordered this item to replace one of my old telescopic rods. I own two other portable rods but have chosen to have this one on the back of my car as my primary fishing instrument. It is compact, it looks nice and stands out when fishing with my friends. The instrument is sturdy. It feels lightweight and comfortable in your hand. It matters a lot when trying to cast a long distance from the seashore. This model of Sougayilang can easily retrieve a fish weighing up to 6 lbs.
It was heavy rain with thunder and lightning when I used this rod for the very first time. That day I saw sparks coming from the device.
The ring on the tip of the rod has to be wider. When casting, the knot comes close to the ring and reduces the force and casting distance. This happens occasionally but I feel I must mention this for those of you who prefer to use thick lines. One of the gold plated rings was loose, but I glued it back to its position. One of the reviews said that someone else had exactly the same issue.
KastKing Blackhawk II Telescopic Fishing Rods, Graphite Rod Blanks & Durable Solid Glass Tip – Review

In summer I was using the KastKing Blackhawk almost daily and here what I think. This rod gives me an impeccable performance. I was casting some lures much farther than I was expecting I would be able to. I would say it was kind of unbelievable, I felt it could cast better than with an Okuma rod that I always take with me for surf fishing.
Being portable makes traveling with it easy. The reel seat is solid, it never wobbled or came loose. The rod is sensitive, but handled nicely steelheads weighing about 4 lbs for some good time. Eyelets tend to rotate a little when using the rod throughout a day. You have to watch out and readjust them.
It has nothing to do with the designers, but getting even a bit of sand on the rod makes itt difficult to fold down or put the rod together. Always make sure you wipe down the rod before storing it.
Hurricane Mako Telescopic Rod – Review

Over the last few years I purchased several telescopic rods, but my personal preference is to use Hurricane rod rather than others in my collection of multi-piece devices. For me it is stronger compared to other instruments. The reel seat is made of plastic, but it is of a nice design. It casts well. I can get a nice balance when pairing Hurricane with a reel I choose. The handle made out of foam feels very comfortable.
The whole package with a case to cover the device is great. Once I took the rod on an international flight, my luggage was damaged, but the rod was intact, despite I packed it on the very top of the bag.
If you take it with you in a backpack, make sure that your bag is long enough. If not, place it on the side. The Hurricane is heavier than the rods made of graphite, but that was expected. There is a problem with cleaning dirt as there is no access at the back of the rod.
Eagle Claw Pack-IT Telescopic Spincast Rod – Review

I had low expectations on this rod, so it was not disappointing to find that it's cheaply crafted, but I paid just $12 for the item!!! It's very simple, everything works, just take out each section, put them together, set the guides, run the fishing line and you are ready to go. I paired this Eagle Claw with a spincast reel. The handle holds the reel tight and let me tell you: for the price the whole package actually casts well. First I tried it out locally, but all I caught was a 2-inch bass.
This pole will easily fit in my carry-on. I don't have to worry about damaging my pricey high-end rods when traveling. I'm not asking much from the Eagle Claw.
Update: I have changed my personal rating for this pole to 5 stars. I am on vacation. I've used this rod for the last five days and it has performed just flawless, way far from my expectations. I lost count of how many basses I've caught. The rod handled the ordeal without any problem. I'm actually impressed. I can assure you that it will handle a 2-inch fish nicely if you do everything right. This will be a great choice if you fish in small lakes and ponds.
Dyna-Living Mini Fishing Rod Portable Compatible with Freshwater Saltwater Telescopic Lightweight for Kids Adults – Review

I bought the smallest and lightest model, and have to say – this rod performed beautifully. I put my ultralight reel with 2-pound test on it, it's ability to cast was excellent, I caught fish. The flex of the pole was good while I was fighting fish, and I felt easily the rod sensitivity to the initial bite. It's light, durable, and compact enough to be packed snugly (but carefully) in the backpack.
It has one obvious flaw. The place where the reel locks in has a ridge, right where a fisherman holds the line when casting. This can cause line being pinched. It can be fixed easily, wrap around that spot a tape or a rubber band.
About the price – a very useful item with real utility. I would recommend to go with this rather than with the cheap pen rods.
Lixada Telescopic Fishing Rod – Ultralight Fiberglass Fishing Rod Pole – Portable Retractable Handle with Protective Cap – Review

I was amazed as soon as I got this fishing rod. It conquered me instantly. It will work for you when you need a good fishing equipment that doesn't take up much space. When I stuffed it into my backpack and took it for my fishing outing, it didn't let me down.
The reel seat on the rod is solid. It does not wobble or comes loose unexpectedly. The color scheme of the product is nice. I never heard so far any snapping sounds when fishing. It is collapsible and comes with a protective cap.
This rod is constructed of high quality material, has good backbone and good hook set. For sure, I am very satisfied with its practicality and appearance. Next time I will purchase a smaller version for my teenage son as a birthday gift.
Magreel Telescopic Fishing Rod, 24T Carbon Fiber Portable Collapsible Fishing Pole with Stainless Steel Guides for Travel Saltwater Freshwater Bass Salmon Trout Fishing – Review

This rod exceeded my expectations. I was anticipating this device to be a backup to my other fishing rods, and be portable for traveling. I unpacked it the other day, and it has already become my favorite. I was pleasantly surprised. The attention to detail, and heavy-duty construction definitely exceeded my expectations. Very easy to use and sturdy.
It collapses down efficiently. When extending the pole, just pull out pretty hard on each segment to lock it into place. I paired this with a reel, and I couldn't be happier with my purchase. This gear really serves the purpose I bought it for.
We went hiking in the mountains and I wanted a pole I could easily pack into a backpack with a reel. It fits in my luggage to take with me on the plane. Only complaint is the guide can slide off their respective pole segment ends after several uses. All in all, a good buy. Really liked this extendable telescopic fishing pole.