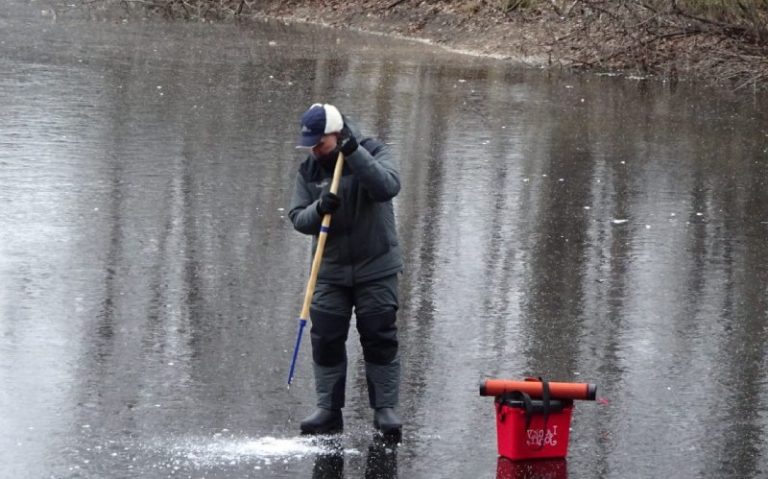 Ice chisel (spud bar) can be well counted as one of the most ancient tools for winter fishing. Archeologists have found spuds at excavations of centuries-old settlements. There are numerous citations about chisels in ancient written sources.
Half a century ago all fishers used spud as main tool to cut ice, but with the appearance of compact augers fishermen started forgetting about them and ice chisels had faded into significance. But practice has shown that ice augers are far from being universal and it often happens that it's impossible to do without ice chisels. Preparations to winter fishing start well before season opens, anglers buy all necessary accessories including ice chisels. Ice chisel – is a striking tool meant for cutting and breaking the ice. Before the ice auger was invented a spud was a basic tool for winter fishing.
Spud Bar is used during winter fishing to:
Make new holes on relatively thin ice (25-30 cm).
Enlarge already made holes when big fish is coming to surface if it cannot go through the existing hole.
Clean holes (when ice fishing tip-ups are set up).
Measure safe thickness of the first and the last ice.
Fix an ice shelter in some cases.
A chisel or Spud Bar is a enough important ice fishing accessory. You can get by without it, but you're much better off with a spud in your gear.
Design
A spud bar (ice chisel) is a piece of steel, as a rule about 19-60 inch in length with a tapered point at the edge. There are 1-piece and 2-piece chisels at the market. Generally, 1-piece chisels can be small (19-30Inch) or full size (50-60Inch). Every manufacturer has a specific chiseled teeth design which is more or less convenient for use. THAT'S IT!
The Best Ice chisel at a Glance
Jiffy Mille Lacs Deluxe – Editors Choice, best overall chisel, but most expensive.
Eskimo CH11 – Top Selling Product and Great One-Piece Chisel.
Nim's Spud Bar – Affordable alternative to Eskimo.
Best Mini Ice Chisels
Jiffy Mini Mille Lacs – Best Mini Chisel (30-Inch).
Rapala hammer Chisel – Best hammer Chisel (19-Inch).
Eskimo Bucket Chisel – Best Bucket Chisel and affordable alternative to Rapala (19.5-Inch).
Best Offer of This Season (2019)
The discovery of this season is Paradise Sports. This manufacturer offers two unique models:
All of them have distinct design which makes winter fishing convenient and pleasant.
10 Best Ice Chisels Compared
So, people who spend time winter fishing should give a closer look to the following chisels.
#
Preview
Product
Price
Details
1

Jiffy Deluxe Mille Lacs


Editors Choice
Well made and works great.
Unique cutting edge.
Two-piece, two position.
It has a stepped blade, hollow tube handle
and easy to use.
One of the most expensive.



Buy from Amazon

$$$$$$$$$
Adjustable lengths: 63.5"
(when connected)
or 69.5" (when extended)
Weight: 11.4 pounds
2 Piece
2

Eskimo CH11


59.5-inch Multi-Faceted
Triple-Action Chipper Head Design
Top Selling Spud Bar
Really sturdy
Long-Lasting
Durable
Comfortable
Chisel is well made and strong enough
to knock ice



Buy from Amazon

$$$$$$
Dimensions: 59.5 x 2.8 x 2 inches
Weight: 7 pounds
1 Piece

3

Nim's Spud


Steel - With Teeth

The best ice chisel for money

1 Piece



Buy from Amazon

$$$$$
Length: 54 inch
Weight: 9 pounds
Painted Black

Perfect, sharp ice chipping rod
Made in USA
4

Eskimo CH7


52.5-inch Single-Action
Head Design

1 Piece

Economy Chisel



Check Price

$$
Dimensions: 52.5 x 1 x 2 inches
Weight: 4.4 pounds

Fully-welded steel.
Proper balance of weight-to-length ratio.
Good value for the price.
Allows you to chip more with
fewer strokes.
5

Trophy Strike


106713

Two Piece



Check Price

$$$$$
Dimensions: 64 x 2 x 2.3 inches
Weight: 11 pounds
Top piece 37.5 inches long
Bottom piece 30.25 inches long

It functions very well and makes
holes efficiently
It packs away good so it's easy to
stow and carry
Good quality product

6

Paradise Sports Spud-1 Piece


Discovery of this season

1 Piece



Check Price

$$$$
Specifications: 60 inch length (1.52 m)
Weight: 11 pounds (5.9 kg)
7

Paradise Sports Spud-2 Piece


Discovery of this season

2 Piece



Check Price

$$$$$$
Lengths: 60"
(when connected)
or 32"
Weight: 13 lbs (5.9 kg)
Safety rope (0.91 m)
8

Jiffy Mini Mille Lacs



Mini (30-inch)
One Piece



Check Price

$$$$$$
Length: 30-Inch
Weight: 3 pounds
9

Rapala Hammer Chisel



Mini (19-inch)
One Piece



Check Price

$$$$
Length: 19-Inch
Weight: 4.05 pounds
10

Eskimo CH9 Bucket Chisel



Mini (19-inch)
Multi-Faceted,
Dual-Action Chipper Head
Design Hammer-Style

One Piece



Check Price

$$
Specifications: 19.5-Inch length
Weight: 3.4 pounds

Great tool especially for strong
winter anglers.
Features a hammer-style chisel
on one end.
Convenient tether rope
Short length (19 inch)
Jiffy Mille Lacs Deluxe Chisel Review
Jiffy Deluxe Mille Lacs Chisel

Editors Choice, Best Two-Piece Chisel.
Two-part and two position chisel featuring a unique cutting edge.
Hard construction from a best brand you can trust.
The chisel is known for getting the job well done. It is easy to pack, lay and carry.
Eskimo CH11 Review
Eskimo CH11 Multi-Faceted, Triple-Action Chipper Head Design Chisel

The Eskimo CH11 is one of the most popular One-Piece chisel.
It has a convenient foam-grip that reduces vibration. It functions very well and makes holes efficiently.
On top of that, it is usually sold at a pretty low price.
Nim's Spud Review
Nim's Spud for WinterFishing - Steel - With Teeth - #NRS

This is actually a pretty good spud and the best ice chisel for money.
You can use it to makes new holes, bust out frozen holes from the day prior or check the top layer of ice. It is well made.
You can really jab the ice using it without worrying about breaking.
Homemade ice fishing chisel
Some fishers choose more complicated way and make spud themselves. We recommend to choose a spud from the rating we suggest.
There are some pictures of the homemade chisel for winter fishing. It's made from a solid steel rod. The handle is wooden and its weight is pretty insignificant.




Application
The spud makes a rather loud noise when used to break the ice, so it's better to make 2-4 holes within 1-2 meters from each other. Hole diameter depends on the kind of the spud used and ice thickness.
To make holes with spud quickly and efficiently and adjust them for comfort fishing you should:
Clean the spot from snow downwind side where you want to make a hole. It will help you to put your chair evenly with your back to the wind.
Be sure to wind safety rope around your hand, otherwise, when the hole is made, ice chisel can easily slip from your hands and jump into the water.
General rule for ice chisel hole-making is to remove ice evenly from all the surface. Do your best not to cut the ice through because the water coming from the hole will make your work really difficult.
First thing you should do is to outline the hole contour then cut the ice with rapid vertical strokes slightly turning the chisel from the longitudinal axis. If necessary and depending on the chisel edge type, ice pieces should be cut off from the center to the walls or vice versa. You should constantly remove small pieces of ice from the hole using your ice skimmer.
Wedge-shaped tips should be inserted at the angle of 60-70 degrees. When ice is practically cut through, break the remaining obstacle with several sharp strong blows, so that water rushing from the ice-hole could push crushed ice out. Sharp hole edges can be made even if necessary.
Tips for Using Spud
Choose the best spud with handle you can easily grasp even wearing warm gloves. Usually, 4 cm is enough.
Break is an ice hole in the opposite sunlight direction. Natural mirror created this way should prevent fish from noticing you.
You should definitely get rid off sharp edges inside an ice hole to prevent fishing line cutting.
Make sure to wind a safety rope of the spud around your hand in case you fall through the ice, so you can always use your spud as a support to pull yourself out of the water.
You can also stretch your coat between two spuds to hide from the wind.