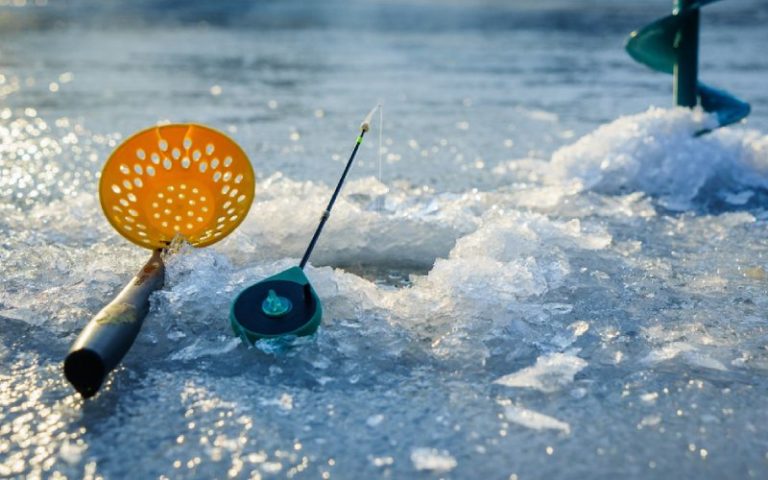 Ice fishing scoop or skimmer is one of the most helpful winter fishing tools. Its main purpose is to remove ice shavings and snow from holes. No doubt, a scoop can be àlso used when picking live baits from storage can.
A scoop could be metal (aluminum or stainless steel) or plastic provided with a wooden handle, foam is also often used on the handle (since it's warm and floatable). As a rule, the handle length is not longer than 14-16 inches.
Scoops made of stainless steel cost more where plastic models are less expensive. The truth is, more and more plastics are being used, basically these are just fine, a handle may occasionally crack on a frosty day though; the trouble may happen even with expensive plastics. To tell more, a plastic scoop will never do if you have to knock ice off the auger blades or clean up the hole covered with ice.
Plastic scoops are valued for their low weight, which is important for long trips, and because of the material which almost does not freeze. Ice can be easily removed by squeezing the spoon with your hand.
Here classical metal scoops are the unquestioned champions. Most powerful models with prongs to break the hole through frozen ice are the best-selling items.
As the most popular to operate in a round hole, a round spoon variation is now differentiated.
The best winter fishing scoop will be that made of rust proof metal. A specially designed loop on it will keep your scoop in hand, preventing it from being dropped into a hole.
Quick Overview: 5 Best Ice Fishing Skimmer
Best Ice Fishing Skimmer You Can Buy
Every fishing dude needs his best ice fishing scoop. Learn more with the buyer's guide below, you will get to know your options before picking up a skimmer for your winter fishing voyage.
There are various commercial winter fishing skimmers available with traders now:
Comparison of the Ice Scoop for Ice Fishing
Preview
Product
Details
Price
Frabill Deluxe Scooper,
7 Scoop

Amazon's Choice




Buy from Amazon

Dimensions: 34 x 6 x 4 inches
Weight: 15.8 ounces
Diameter: for an 8" hole
Large skimmer
30" engraved ruler
Works great
Ice don't freeze and stick
$$$
Celsius Telescopic EVA
Handle TS-3 Skimmer
Extendedup to 3'

Editors Choice
Amazon's Choice




Buy from Amazon

Dimensions: 24x5.1x4.8 inches
Weight: 1.6 ounces
Diameter: 4.5 inches
Highest qualitiy materials
Easy to use and it works great
Durable
Excellent Quality
Heavy duty scoop
$$
Deep Freeze scoop

3 sizes available:
6", 8" and 10"




Buy from Amazon

Weight: around 2 pounds
Compact
Portable
Durable
Cleans the hole in two swipes
Great product
Made in the USA
$$$
Berkley Fishing Scoop
Metal ice fishing scoop



Buy from Amazon

Dimensions: 2x6x2 inches
Weight: 2.56 ounces
Diameter: 6"
Plastic Hole
Good solid build
It works great
Good hand ice Scoop at low price
$
Jiffy 1840-D Chipper
Dipper 4.75-Inch Ladle
with D-Icer Armor




Buy from Amazon

4.75-Inch Ladle
Weight: 15.8 ounces
Metal skimmer
Nice product
$$
Rapala Mega Scoop
Rapala fold up ice fishing scoop



Buy from Amazon

Dimensions: 34 x 5.8 inches
Perfect Skimmer
Adjustable wrist lanyard


$$
Celsius
Plastic ice fishing scoop



Buy from Amazon

Dimensions: 15.7 x 4.3 x 0.2 inches
Weight: 1.76 ounces
Lightweight
Bit flimsy plastic
Very cheap Skimmer

Celsius works great, but you
can't use him to chip ice in your hole
$
Eagle Claw
Plastic ice fishing scoop



Buy from Amazon

Dimensions: 14-Inches
Weight: 0.3 ounces
Metal handle
Made in America
This is a pretty darn good skimmer
at low price

$
Productive Hockey
Stick Big Dipper,
30-Inch
Vintage ice fishing
scoop style




Buy from Amazon

Dimensions: 30-Inches
Weight: 1.8 pounds
Great quality
Long-Lasting
Made in USA
$$
Celsius Chisel-N-Dip Ice Scoop
Metal ice fishing scoop



Buy from Amazon

Dimensions: 22 inches
Diameter: 6 1/8 inch
Weight: 8.82 pounds
Highest quality materials
Metal fishing skimmer
Handy tool
Bit heavy
$$
HT Enterprise Skimmer
Poly Flex with Aluminum Handle
Gold




Buy from Amazon

Dimensions: 16-Inch long
Weight: 2.4 ounces
Diameter: 5 inch
Aluminum skimmer
Nice simple tool
Easy to use
Works really fine
Good product for the price
$
HT TPS-36 Telescopic
Skimmer, 36-Inch
Ice fishing scoop 4 inch



Buy from Amazon

Dimensions: extends 36-Inches
Weight: 15.2 ounces
Diameter: 4"
Telescopic Skimmer
Cheap plastic peices
Cheap junk
Many anglers have had trouble with this skimmer

$$$
Make sure you have a good skimmer on hand before winter fishing.
Ice Fishing Scoop Reviews
Frabill Deluxe Scooper Review
Best seller, best overall ice fishing hole scoop. Meet our top pick ice scoop available.


Chances are, a newbie would collect all the tiny equipment necessary to go for the first catch, and it is ok, but here are the small ice fishing tackle pieces really needed for a perfect day, do not forget these literally basic things! Oh yeah, naturally, it goes about…winter fishing scoops or, as they call it, ice skimmers, this time a deluxe item, one of the best.
PROS:
Better suits for an ice hole to clear it through the deep ice;
Simple and accurate, an item to be your day saver on ice under all occasions and in most of your applications;
Nevermore feel tired while having to bent over the hole and clean it by hand!
Simple ruler option!
Pure excellence for the price;
Remove ice bits and do in nearly no time!
Just optimal size and construction to do the job!
Comfortable and perfect grip handle to operate – even longer than older types!
High-quality and exclusive design item, extremely handy to perform;
Practically tested to fit all-weather conditions;
Designed to withstand even sub-zero temperatures with no-freeze feature.
Celsius Telescopic EVA Handle TS-3 Review
Editor's Choice: excellent metal ice fishing scoop, highest quality materials.


Here comes the exclusive one, a highly-praised and high-rated option out there.
The most important, sometimes critical thing to remember when starting your ice fishing tour, is that in a while you'll find yourself in the midst of the white silence… Surrounded by ice, freezing temps, frozen water horizons… This will serve as the instant reason for the exposed water to freeze up and then you'll face the icing up process. Thus you will need an ice scoop faster than could earlier imagine…
PROS:
Smart extended-rod function to ensure your better performance on ice and scoop the hole even without getting out from your seat or when standing up over it;
Well-built and professionally designed to live for long, a couple of seasons at least granted!
Beats all cheap rivals. A champ amongst the peers. Real thing for a real man!
Sturdy enough to become your reliable skimmer and deserve your love.
Featured is a longer and stronger handle and leaves any cheap plastic scoops far aside;
Bent over your holes no more – just keep the thing with you while going for a good catch;
You sit in your stool, the thing works for you from out there – a perfect reach and a good grip!
All-metal constructions plays the first violin of the tune;
Extendable and reliable scoop at the same time;
The basket doesn't freeze up like any other cheap version;
Long reach and eye-catching look;
Progressive EVA handle and nice collapsed – extended parameters!
Deep Freeze Review
Best ice fishing ice hole scoop 6 inches with unique design. Reliable brand name offering ice anglers another great product.


With this, you are going to get a reliable brand while a perfect product! Wanna go ice fishing yet think a lot of the tough winter conditions? Do not hesitate to acquire this one: the good news is you'll have a perfect ice scoop to work for your needs. Adding this to your fishing gear will make you well-equipped for a try. Go grab a nice catch through the ice!
PROS:
Featuring really one of the fastest skimmers on the market!
Grab on this compact, smart, portable, and extremely durable item for your comfort;
Variety of three sizes available to choose from;
The item has been proudly manufactured in the USA!
Just stick it in and relax to have your next cigar: there is no need to drill first and then pull it out from the hole!
Doing just a great job in the ice of up to twenty inches deep!
Perfectly cleaning abilities – an auger's assistant and simply great product to grab on if willing to get a great tool;
Faster ice scooping compared to the rivals;
It really works for your needs!
Berkley Fishing Review
Best cheap ice fishing ice hole scoop. Metal ice fishing scoop.


This very impressive skimmer provides for your better comfort and good grip to prevent you from your back stress while bending over the hole to clean it by hand.
The item is really handy and provides for your best performance while cleaning ice shavings.
PROS:
Easy to store and carry: a real must for winter (ice) fishing lovers!
Featuring the really smart composition of nylon and aluminum – construction and shaft – plus an easy storage hook handle for your better comfort and safety;
Solid stainless steel construction featuring a chisel and convenient 15-inch graded ruler;
A real must for both novice and experienced angler;
Advanced version of a great classical metal scoop with ice chisel!
3-stars solid construction; clean the auger holes efficiently and from your stool;
Specially designed chisel works for clean holes keeping them wide open!
Steel shaft and the chisel make the thing look and feel beefy: a great one to get to your trophy right through the ice!
Progressive design and modern actual look;
Perfect ruler stamped in its handle and long enough to utilize as legally required; Lasts for a long time!
Jiffy 1840-D Chipper Dipper Review
Simple, reliable aluminum ice scoop for fishing.


Brightly colored and eye-catching design model of an ice scoop.
This item has an eye-catching yet simple design, it is easy-to-use and carry!
Great fishing helper for ice fishing lovers.
PROS:
Perfect, sturdy and durable deicer currently available for the money;
You get both the notorious brand and the perfect thing!
Never fail in negative degree weather action!
Extremely durable and a day-saver, perfectly fits your needs;