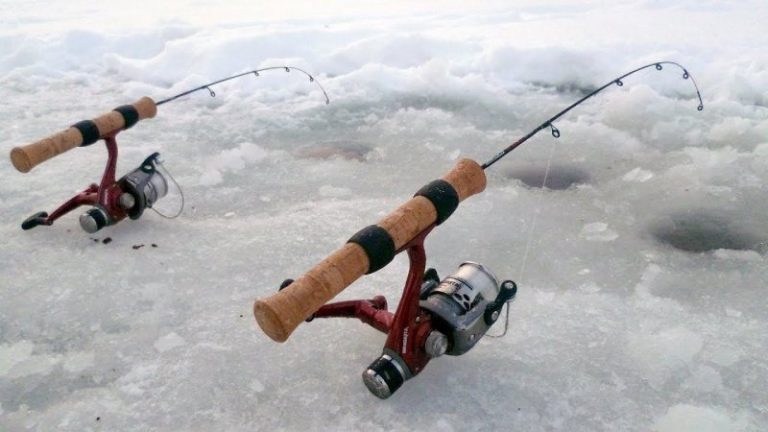 With this, we are going to deepen into the topic and give you an idea of how to choose a champion ice fishing rod of your own. Things go the way ice fishing has become more popular. The fact that ice rods have gone under their countless improvements and upgrades for the last decade, becoming safer and smarter, contributes to the trend drastically. Since fishermen no more consider winter as the season when they are to slow down their fishing activities or even discard it, their excitement is tending to grow high.
A short ice fishing rod proved to perform superbly, now we are witnessing the expanding demand for these efficient and perfect ice fishing instruments, and more anglers are coming into the sport. This growing demand attracted numerous brand gear manufacturers to give you a perfect match. Well, now it's your turn to get one and give your best ice fishing rod a go!
However, to pick your very own ice fishing rod is definitely a matter of serious consideration. Right decisions should be made based on modern knowledge to choose the right thing. You'll need an efficient and strong, lightweight and powerful rod that suits your fishing needs best to battle a big one from the ice. So, here is the list of our best ice fishing rods to perform greatly that are currently available on the market. Read on to learn more and look for your next adventure!
Best Ice Rod Quick Picks
Comparison of the Best Ice Fishing Rods
Preview:
Rods:
Length:
Details:
Price:
Shakespeare Ugly Stik GX2
Best combo
Review
26", 28"
One-piece
1 ball bearing
under
50$
13 Fishing Combo
Another great combo
Review
24", 27"
Left/Right
Carbon
5 Ball Bearing
under
50$
Berkley Cherrywood HD
Affordable price
Review
24", 27"
Fiberglass
Cork handles
under
50$
Frabill 690002 Combo
High-quality ice rod
Review
24"
High-quality
Combo
under
100$
St. Croix Mojo
High-quality ice rod
Review
36"
Carbon
under
70$
BaitRunner Ice Fishing Rod
Innovative rod
Review
28"
Premium quality
under
70$
Fenwick Elite Tech
Unique quality rod
Review
16", 23", 24"
25", 26", 27"
28", 30", 36"
100% graphite blanks
under
50$
HT Pink Lady
Best for ladies
Review
25"
Fiberglass rod
1 Bearing reel
under
30$
St. Croix Jigging Series
Best sensitive rod
Review
27", 30", 36"
Specifically for jigging
Carbon blank
under
100$
Schooley Combo
Inexpensive combo
Review
26"
With fishing line
and jigs and bobber
under
30$
Best Ice Fishing Rods Review
Shakespeare Reel & Rod Combo Review
With this reel & rod combo, there is no need to painstakingly research the industry prior to your purchase: it goes sound and complex, a great rod from carbon with a perfectly fit hidden seat aluminum reel to explore the heritage of the top-rated manufacturer and get your unforgettable ice fishing experience! The Shakespeare reel and rod is a combo to give you the balance of traditionally best-performing options with the new generation strength, efficiency, and impressive durability. This one is an improved version of all the previously popular creations by the company-manufacturer it is famous for. Here are now featured both advanced technology-based components for optimal performance on the ice and cosmetically improved looks for your ultimate comfort and easy usage.

PROS:
Modern combo all-in-one option for your instant great ice fishing experience
Advanced materials used for impressive durability
Aluminum spool to withstand heavy-duty use
Featured here is a 24T carbon option
Original blank by the manufacturer with clear tip
Progressive design & modern looks
Unique hidden reel seat
Sure-grip handles from EVA
Featuring guides as a one-piece stainless items
Popular extra-top rated manufacturer's spinning rods here go as a basic feature
Ultra-lightweight and added durability
13 Fishing Combo Review
A short yet powerful blank is a specific ice rods feature, as you already know. These are usually made of a variety of modern materials for extra-lightweight and strength abilities. Here we have a great combo with ultra-light action, another cool opportunity to get exciting fishing experience and fight big fish. The rod here goes as a solid carbon blank with an evolve real seat to be engaged in the most efficient performance of this combo. To tell you more, the bearing system of the reel involves 5 ball bearings for its nearly instant anti-reverse action. The feature ensures your total control over any fat bail. The construction got improved with numerous novelties. It is made of modern composite materials, features an aluminum progressive firm-grip handle and an aluminum spool. All these contribute greatly to your rod extra-lightweight and efficiency. It is powerful enough to get you a big one!

PROS:
Extra-light and ultimately efficient
Composite materials ( 24T carbon) and aluminum used
Featuring left/right option to enjoy
Extensive use and durability granted
Lightweight evolve engaged guides of extra-fine design
Featured here is a patented hidden reel seat
Best performance on the ice with its instant anti-reverse system
Berkley HD Spinning Rod Review
Should you feel like skeptical at the moment you first see the price of this spinning rod, once you try it, you'll love it as your ice fishing assistant and never doubt these short rods with extra-powerful features. You'll never fail with such since it will perform just beyond your expectations. Here goes an ultra-light spinning rod for ice fishing, and it is actually worth a shot! Once you get one for your expertise, in a couple of weeks it will prove a proudly-owned one to be efficiently used out there on the ice. This is best for jigging crappie and usually eagerly bends and bends again with no tendency to break over your prey. This highly-portable and extra-powerful spinning rod is just another great design offered by the notorious Berkley, a top-branded inexpensive yet highly-reliable item anglers recommend.

PROS:
Extra-popular brand item
Ultra-lightweight & powerful for ice fishing
Featuring a fiberglass blank for your hundred percent satisfaction
Heavy-duty resistant construction
Added durability finish
Light and handy cork handles for your sure comfortable grip
Unique reel seat from graphite for extensive use and durability
All inserts and guide rings here are from hard-grade stainless steel
Frabill 690002 Combo Review
To provide you with an informed choice here is the note: Frabil has been in this business since 1938, and since then the company gained its fame as a number-one fishing gear manufacturer to bring you best-trusted solutions for anglers success. The collection includes highly-reliable top-quality and best performance-driven products for fishermen. Both your memories and your proud records will gain much thanks to these. Create your best and most unforgettable ice fishing experience. A truly enjoyable adventure will require a Frabill combo like this one! This is an all-in-one option for you to make your big catch dreams true.

PROS:
A rod & reel combo with history!
Traditionally performance-driven classics
Top-quality, weather-tested option for ultimate efficiency on the ice
Unique no-frost ice fishing gear to be used in sub-zero temps with ease
Manufacturer's warranty can be requested from customer service
St. Croix Mojo Series Ice Rod Review
Featuring here is the all-new ice series fishing rod novelty for your best choice! The manufacturer literally turned over all the stones on the way to approach the level of extra-efficiency and customizing of a rod & reel tandem for your best performance-driven ice fishing experience ever! Its custom reel seat and the unique cork handle will perfectly suit for a variety of applications where a big catch is the task: go easily after panfish or trout, fight pike and walleye, or lake trout with different styles and a variety of ice fishing techniques. Now it is all comes possible with this improved precision-tapered blanks made of solid carbon for extra-lightweight and efficiency, as well as for extended durability and added comfort options. Here are featured guides from stainless steel. The size of these will prevent freezing for long! Get your very own Mojo series rod to hit the rates!

PROS:
Best ice fishing rod for excitement
Solid carbon and high-grade stainless steel option
Impressive power and ultimate efficiency
Performance-driven cutting-edge construction
Precision-taper blank for heavy-duty
Top-rate performance in the cold
Progressive size metal guides to never freeze
Unique cork handle construction
Ideal for a variety of fishing techniques reel seat
Ultra-lightweight and durable
CONS:
BaitRunner Ice Rod Review
No mocking here, a really innovative cutting-edge custom rod to feel and look like more expensive models is reviewed here. This ice fishing rod is really designed for ultimate performance and superior efficiency for the money. It is a highly-sensitive model, which makes it a unique instrument to detect even the slightest stroke. Here a patented with removable bait cup ergonomic handle option is featured to provide for your better bait control/access. The inside of the patented bait cup here plays a great host for your tackle to be conveniently and safely stored there for the deed. This one is a medium-action extra-sensitive & backbone ice rod. It's a solid-carbon option with guides from coated stainless steel. The guides here will never freeze up, and the only thing they need is a slight cleaning with a brush to perform greatly. With this, you'll get an action rod for any application where a sensitive reaction and superior efficiency is needed.

PROS:
Best innovative & superior performance
Extra-sensitive & ultra-powerful custom rod
Ergonomic principles and best engineering solutions applied
Med-light action
Featuring an innovative bait cup (removable) for safe and easy tackle storage
Ultra-lightweight & backbone
Unique handle
Added sensitivity and perfectly positioned reel
Fly eyes to prevent build-up
Unique color scheme and superior modern design
Looks like a high-end rod should look
Fenwick Elite Tech Spinning Rod Review
Introducing an elite quality high-class top-performing ice fishing rod that may be found as a reasonably priced version with no hand or leg loss necessary to pay for. Since all the blanks with these are solid graphite constructions, they will serve as a highly-durable ice fishing assistants. The guides system is featured here as a series of stainless steel perfectly centered fly eyes. These are the bunch to guide the line just right. The reel seat is a smart construction. All that and tiny improvements are the distinctive markers of quality and top-rate performance. This is a perfect solution for anglers preferring their rod to serve as a dead stick or anglers who are standing for jigging styles. This model goes as a medium-light option, yet a version to perform in tough applications.

PROS:
Light & powerful
Ergonomic and perfectly looking
Sure-grip
Great guides with extra-durable metal inserts system
Graphite blank
Stainless steel on the guides
Innovative reel seat
CONS:
Not a high-end graphite rod, hence lower sensitivity compared to costly ones
HT Pink Lady Ice Fishing Combo Review
Introducing here a really unique combo for your best Christmas pick to be a surprise for your best one or a lady. This is a great high-performance adventure-driven fiberglass rod with a high-end handle made from EVA. Here it is featured a progressive ring guide system for your ladies' best comfort and sure grip. It allows ice fishing with a preliminary spooled line as a basic feature, this is all due to the unique 1-bearing only reel construction. A fashionable tiny thing to match lady's delicate fishing styles, as well as to give you a perfect opportunity to build her very own fishing experience in the cold. Designed with ladies in mind.

PROS:
Unique high-end innovative design
Designed with ladies in mind
Light & powerful
Ergonomic and perfectly looking
Sure-grip granted
Innovative 1-bearing reel option
Highly-desirable as a Christmas gift
St. Croix Jigging Series Ice Fishing Rod Review
Some anglers do prefer their jigging styles when going ice fishing. This is great, and here goes a perfect match for that: a superior-sensitive jigging-driven best performing with most popular jigs ice rod currently available on the market! It goes as a solid-carbon precision-tapered blank basic model with carbon handles. Since it is a superior-sensitive one, it provides for ultimate control and performs ideally. These rods are proudly manufactured in the U.S., which is an impressive combination of advanced domestic and foreign technologies applied here. World's best guiding rings system contributes greatly to its ultra-lightweight and low-profile running abilities. A real thing for a real ice fishing buff, so to say.

PROS:
Proudly manufactured in the U.S.
Specifically engineered and constructed for jigging
Featured here is a solid-carbon option
Precision and efficiency
Ultra-lightweight & performance-driven
Super-sensitive
Carbon handle for sure grip and added comfort
Featuring a low-profile eye system
Schooley Combo Review
If you are about to start it all again, and just looking for an opportunity to refresh your high skills and get some new ice fishing experience with no fortune spent, this is the one you are to take a closer look at. Not that it is the low price that attracted us in this old-school classics. It is the feeling you first touch and try the rod, the delicate memories from the past when things "were right" and nobody dared to call you an old-timer.
This one comes from the old times, it's a traditional and simply-crafted yet reliable inexpensive option for this season. It is an all-in-one offer, all jigs, etc. included. Feel like it is a long time ago again with this old-timer pole for your immediate ice fishing adventure. Free yourself for a day in the cold, and see how easy it will be to detect bites, and how much fun to fight your fish it really is. It would be a great one for a kid or a beginner, too.
PROS:
Tradition & modern trends melted up together
Highly-reliable classics to give a go
Efficient and performance-driven ice rod reel
Best for small and medium fish
A pole for a kid or a beginner, as well as to refresh your ice fishing record memories
An old-timer for a fascinating classical feeling and excitement
Ice Rods vs. Long Casting Rods: What's the Difference
As a matter of fact, you will learn to recognize an ice rod fast. It can be done at a glance: it's a shorter version of a standard warm-season casting rod. This shorter length will efficiently compensate for the lack of space while ice fishing. Thus the difference is essential, let us tell you some ice rods never have any pool! Being different from their summer season longer casting rivals, ice rods are perfect assistants in the effort to catch your fish through ice hole: their shorter lengths allow for their perfect performance here to succeed when jigging or dropping a live bait. To know more about their length, here are their standard length parameters to keep in mind.
Ice Rods Length
As a rule, a 36-inch rod as a standard maximal length will do, yet a shorter 24-inch version may be easily picked as your day-saver. This may appear important, to differentiate between these is sometimes necessary since longer ones and shorter ones do their different job: longer rods are medium action rods; these are top-rated instruments to fight larger species. Their shorter versions are light to ultra-light class options. Now, these are great for your hunt for smaller species fish through the ice. Now, we are to research the materials rods are usually made of.
Ice Rods Material
Here is just another important thing to know: there are three basic materials ice fishing rods are made from. Not that this one or another is better for an angler, this all depends on a brand and the purpose. By the way, the same thing with their warm-season alternatives. Basically, your favorite lure will dictate the material type.
First here goes carbon fiber. It is reported as the stiffest, lightest and strongest version compared to the rivals. It works just fine and provides for a great rod's sturdiness, as well as it is an ultra-sensitive alternative to all the rest. Though make sure you are ready to spend more dollars on this one. These are pricey.
As the second main basic material usually used by different manufacturers goes graphite. It is naturally strong while being a lightweight option. This material is used to make a rod weather-resistant, that is perfectly performing in the cold water. A rod made of graphite will perform greatly with single hook lure – no chance to miss a lip if you can reach for it!
Next standard material ice fishing rods are usually made of, is notoriously heavier than the previous one (graphite) yet at affordable price. It's fiberglass. Regardless of the fact it is not so sensitive or stiff as graphite, it is reportedly much stronger and perfect to be used. It is not that good with single hooks though.
Handle Selection Tips
Tastes naturally differ, so a handle of your choice will depend on your personal likes or dislikes. No big deal here, the materials are not so many. They are only two in particular: handles for ice rods typically go made either from cork or from foam. Should you pick a cork one, you'll feel like enjoying its extra warmth in hand. It is also ultimately light and fits for a firm grip. If it comes to a foam one, this is a light & soft option to provide for your both sure grip and best comfort.
Ice Fishing Rods Specific Power & Action
The specific power for the rod is a clue. To know your ice rod best, this is the first thing to learn about it. Well, to make a long story really short, let us tell you the basic difference between the options currently available: you are free to choose from ultra-light through light and medium-light to medium-heavy, heavy and even ultra-heavy. The trick is the stronger your rod's power is, the more weight it would actually withstand without bending.
But do not rush into the power from the very start. There is another thing to remember here: in winter you battle fish that is actually not that much aggressive as in warmer seasons and usually giving your rod just a delicate stroke.
All this meaning your rod has to be just specifically sensitive to detect this slight stroke from beneath the ice. An ultra-light version will work fine here!
How To Choose A Decent Ice Fishing Rod
Here are some tips to start with. First, an ideal ice rod to hunt for your small fish will be the one that suits your needs better. Ultralight version will do from the start if you are not after some monster prey. When it comes to a larger one, choose from light-medium to medium versions. Should your ambition go further on as far as dreaming of a really big one, get you some classified as belonging either to medium-heavy- or a heavy ice fishing rods.
As we have mentioned, the choice will depend on the variety of basic things to necessarily check while picking a rod: consider the materials it is built of, its power/action specs, and the specific type of species you are particularly willing to make your next trophy. Both fiberglass or graphite will perform greatly.
One more point to mention here. Even in case, the power of a rod is your undisputable priority, keep in mind that to land your prey you will often need nothing more than a rod from ultra-light or light class with relatively low test results for the power: these are totally capable of doing their perfect job and bringing you a nice trophy!
Let us consider the action parameter now. As for this, your ice rod has to perform sensitive enough, that is to easily detect the slightest bite, so go pick just one either fast or ultra-fast for your adventure.
Here is another tip: pick an ice rod with more "guide" rings. These specific rings are to guide the line off the spool and reduce heat from friction, as well as to distribute the load and stress evenly. These usually go as items made from the variety of durable materials: stainless steel, aluminum or ceramics. Just look for the best quality to feel on the safe side: the better quality you get for the guides, the better outcome you will enjoy in the end.
Final Word
Well, here is the list to choose from.
Now you know that to get back home with a nice trophy will require a decent match for your targeted prey. As simple as this may seem, the right choice made and the appropriate gear will mean your great catch. Not all ice fishing rods look and perform the same way. Thus to make an expert selection from the start may be hard.
We hope the tips we gave you will work.
Of course, the models offered by manufacturers are not without their drawbacks or individual faults. Some are not ideal. Again, specifications, design, and peculiar features may vary and depend on the manufacturer and the environment they are exploited.
However, after being tested individually, all the rods reviewed to be selected have proved their advantages and will satisfy your needs at their best.