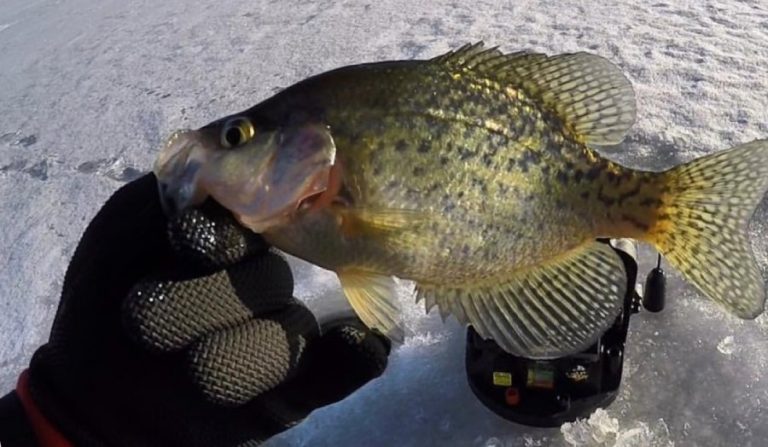 Having a good pair of warm and reliable gloves is crucial to take the most of fishing during the cold seasons. An issue of protecting hands from exposure to icy cold water, wind and frostbite on winter fishing trips is still a huge priority for fishermen. When doing ice fishing, poorly protected skin goes under constant contact with wet baits and slick fish that eventually may have an adverse effect on the overall health of an angler.
Quick Picks: 10 Best Ice Fishing Gloves
Interesting! Different people have different natural response to cold. It depends on how close the blood vessels on fingers are located to skin. Individual metabolic rate is also a factor.
Comparison of the Best Ice Fishing Gloves
A pair of perfect ice fishing gloves should be warm, cozy, windproof, waterproof, comfortable and secure so that an angler retains certain dexterity to work the fishing equipment. The ice fishing gloves and mittens come in different styles and constructions. Different angling styles, various weather conditions, individual response to cold put different demands on a product.
Today consumers face a vast variety of products. It is important to make the right choice and purchase the most suitable gloves, taking into consideration the intended fishing environments. The gloves should be warm, comfortable, cozy, windproof and water resistant and most importantly, work the best for specific demands of an owner.
The purchase of gloves is typically a personal experience-based decision or a choice made following other people's advice. When buying, consider the manufacturer's reputation and popularity, and always go for a premium quality, as poor quality products can simply take enjoyment out of fishing and have negative repercussions on physical health.
When making a purchase, consider the following:
Gloves must be properly sized.
There should be no defects, cuts, or holes on the product.
Test durability, elasticity of the product as you touch and stretch it, decide whether it is suitable for your ice fishing tasks, inspect if the gloves are treated to be windproof, coldproof, and water-resistant.
Assess the seam work: seams on the shell and liner of the gloves should be of high quality.
If there is a built-in heating element, learn how to prevent overheating and check for a warranty.
There are different styles of constructing ice fishing gloves:
Gloves with openings for each finger which makes them ergonomic and do the fine work, but the downside is that the hand is exposed to cold too much. These gloves are not for everyone, they are useless to combat harsh cold.
Gloves with cut finger construction when only working fingers are exposed (usually thumb, forefinger, and middle fingers) and the rest covered. If wearing this type of gloves, you will protect your hands from wind and keep them warm while still being able to operate the gear.
Gloves with flip back caps for fingertips so you can expose your fingertips when needed.
Mittens with a lift-up flap for all fingers so you can take your fingers out when operating the fishing gear and then cover fingers again to warm up your hands.
Mittens with no flap are good when you take a break from fishing at sub-zero temperatures and want to warm up your hands. When working a line or a hook you usually take the mittens off as obviously it is tough to cast and do other angling motions wearing fingerless mittens
Plugin heated gloves to warm up hands when they freeze solid, then you can switch to another set of gloves and continue fishing.
Winter fishing gloves can be constructed from a variety of materials:
Neoprene products are windproof and water resistant which is very important when fishing in adverse climatic conditions. These hand warmers usually feature a 2-3 mm neoprene construction; they are fleece-lined, or have a layer of other thermal insulated material.
Fleece gloves are very warm, soft, cozy, windproof, allow for a good grip to perform the fishing tasks. The downside is that these gloves can leak.
The best option are the products constructed from membrane fibers that keep water out of our gloves, while letting moisture from the inside to wick away easily. Fleece and polyester are typically used as insulation liners.
Knitted gloves is a traditional but popular item that is in constant demand among anglers, they are lightweight, comfortable, and also retain heat very well.
Neoprene gloves are a popular choice in the fishing industry, as on top of functionality, they offer durability, they repel water, retain original appearance. The neoprene gloves do not fade and do not tear.
Important! Any fisherman must know that the gloves constructed from modern synthetic materials do not warm up your hands, but rather retain the temperature of the hands. That is why for superbly cold days a preference should be given to the good old wool gloves.
Modern technologies offer certain great improvements to the gloves, like reinforced slip resistant suede palm to hold up well to abrasions and allow for a better grip on the fishing rod.
Best Ice Fishing Gloves Reviews
Fishing in the winter can not go well without gloves, hands will be freezing, and the real pleasure and enjoyment from fishing will be taken out. Retailers offer a wide selection of various models from different companies, in different price categories. Let us llook at the most popular gloves on the market today:
SealSkinz Ice Fishing Glove Review

These gloves are on top of our list due to extreme warmth and comfort they provide. Sealskinz gloves have a shell constructed from micro-porous membrane fiber that makes them breathable. The natural leather palm over a layer of insulation material and a polyester liner provides comfort and durability. There is a drawstring and an elastic band on the cuffs. Despite this product is advertised as waterproof, it is not actually proof to immersions.
The palm made of goatskin leather provides perfect practicality and dexterity. Protection against cold drafts and sub-zero temperatures are the reasons we pick Sealskinz as the best hand warmers for ice fishing.
Pros:
Real leather is practical and dexterous.
Soft pad on the thumb is made of suede.
Well-sealed cuffs.
Cons:
Fingertips may run small on some people.
Expensive product.
MCTi Waterproof Mens Ice Fishing Gloves Review

The MCTi gloves might not be a popular option, but it is a well-constructed product suitable for cold winter days. The gloves comprise warm cotton insulation under a 3m Thinsulate outer shell. This type of construction perfectly suits most outdoor activities, like hockey, skiing, snowmobile, hiking and the last, but not least, ice fishing. Light, soft liner make them cozy and comfortable.
MCTi gloves are superbly windproof, coldproof, and waterproof, exceptionally durable. There is also a zip pocket provided to store miniature tools, accessories, or keys.
Pros:
Very warm.
Zip pocket for accessories.
Cons:
Glove interior retains moisture.
A bit bulky.
Glacier Ice Bay Review

With coldest winter days in mind, the Glacier Ice Bay Neoprene gloves offer a performance driven design. Manufactured from premium quality 2mm neoprene, this product is fully water resistant to ensure your hands are dry even when submerged.
The gloves feature a fleece lining that provides phenomenal warmth for frigid days. Finished with signature sharkskin and a seamless dexterous palm for flexibility, these gloves are perfect for ice fishing when warmth, practicality, and dexterity are at a premium.
Pros:
Neoprene construction for complete waterproofing.
Blind-stitching, seamless palm.
Moderate price.
Cons:
Not adequate for winter physical jobs.
Not accurate size guide.
Glacier Glove Pro Angler Review

Pro Angler gloves feature 2mm neoprene of premium quality, fleece on the inside, perfectly curved fingers to prevent fatigue, patented Touchrite on thumb and forefinger for access and added functionality. Openings for thumb and forefinger make casting easy.
They perform great in icy cold water. The gloves are blind-stitched. Pro Angler is considered as the company's top of the line gloves for winter fishing.
Pros:
Pre-curved fingers.
Slits for forefinger and thumb.
Waterproof.
Cons:
Velcro is not attached very well.
Smell of neoprene.
Ice Armor DrySkinz Glove Review

Waterproof design and unique flexibility make these gloves the perfect pick if you do plenty of ice fishing. The seamless construction provides a snug fit with a thermal liner that helps seal in heat. The waterproof membrane material keeps moisture from weighing the glove down and ensures warmth.
Designed with long cuffs to keep ice and snow out, these gloves will be the perfect choice if you need dexterity in extreme ice fishing conditions.
Pros:
Excellent dexterity.
Long cuffs.
Snug fit.
Cons:
Wrong sizing chart, the palm fits nicely, the fingers too long.
Made in China.
Rapala Marine Fisherman Gloves Review

This pair of practical gloves provide perfect grip to control slippery fish. Latex coating gives good protection from fish fins. These gloves are constructed to use in both fresh and saltwater environments. You can wash the product in the washing machine, but when drying always use drip dry mode if you want to have them for years. Do not to use Rapala gloves when filleting fish.
These gloves boast perfect grip for hand tightening of anything unless it requires a wrench. Rapala gloves are not designed to be waterproof, use them to secure fish, to do fine work, but your hands will be wet anyway.
Pros:
Durable latex coating, slip resistant technology, machine washable, good for both fresh or saltwater applications.
Cons:
Not waterproof.
Size chart is not clear.
Black Diamond Mercury Mitts Ice Fishing Mittens Review

Completely water resistant shell and premium quality insulation make these mitts a popular choice. Stretch fabric keeps moisture well, the palm crafted from goatskin leather increases durability of the product. The liner featuring an aloft fleece is removable.
Great mittens for extremely cold days. Very well crafted. Despite being bulky, they provide quite decent dexterity.
Pros:
Great craftsmanship.
Very warm.
Removable liner.
Cons:
Not accurate size measurements.
Not good breathability.
Youngstown Glove Review

This product is completely water resistant, constructed with your hands in mind to keep them warm and dry. The company used the best materials available: an inside liner crafted of microfleece, membrane fiber in between, and a practical outer shell. There is also a layer of Thinsulate on the upper part of the glove.
The 3-dimensional form-fit design provides functionality and real comfort. Due to its unique construction, the Youngstown glove fits securely and makes you able to do fishing tasks without removing the glove.
Pros:
Completely waterproof.
3-dimensional ergonomic design.
Moderate price.
Cons:
Run smaller.
The microfleece liner not attached to the shell.
WindRider. Rugged Waterproof Winter Gloves Review

WindRider is a real-deal winter glove designed for outdoor sports and jobs in the cold weather conditions. The company uses 3M Thinsulate and foam, a hipora liner (Gore-Tex) to make WindRider waterproof, a cordura nylon for outer shell to give the rugged structure, and a cozy and soft fleece on the inside.
These gloves originated out of the merciless cold seasons in Minnesota and have been tested for various winter jobs and sports: ice fishing, snowplowing, skiing, hockey, sledding. Touchscreen friendly fingertips are engineered for you to take calls without removing a glove.
Pros:
Waterproof.
Touchscreen fingertips.
Rugged design.
Zipper pocket.
Cons:
A clip to keep them together is not secure.
Stormr. Stormr Typhoon Women and Men's Gloves Review

Stormr gloves are waterproof, however not intended for immersion. Ice fishing trip could be really tough, but if keeping your hands dry, you can transform it into an enjoyable adventure. Excellent for outdoor life in winter that requires ultra grip in extreme weather conditions. Stormr provides high durability due to reinforced palms and thermal strong grip, comfort and warmth because of microfleece lining and fit-in form.
These gloves are designed with flexible watertight seams, they are blind-stitched from inside. You have an option to have KEVLAR thumb and forefinger (black color) or not (red color).
Pros:
High quality neoprene.
Microfleece liner.
Strong grip palm.
Effortless on and off construction.
Blind-stitched from inside.
Cons:
Not intended for immersion.
Seams may irritate skin.
What are heated gloves? Do you need them or not?
The latest technologies offer heated gloves as a newest staple in fisherman's equipment. There is a small heating element built into them that starts as soon as an angler puts a glove on his hand. The heated gloves are pricey, so you need to decide on whether you want to feel comfortable as these gloves limit the dexterity or have to suffer possible frigid temperatures. The outer shell of heated gloves is made of a water-repellent and durable material that prevents damage to the heating element. Do you need the heated gloves or not? You have to weigh on your fishing environments and needs and, of course, on the climatic conditions of the intended fishing area.