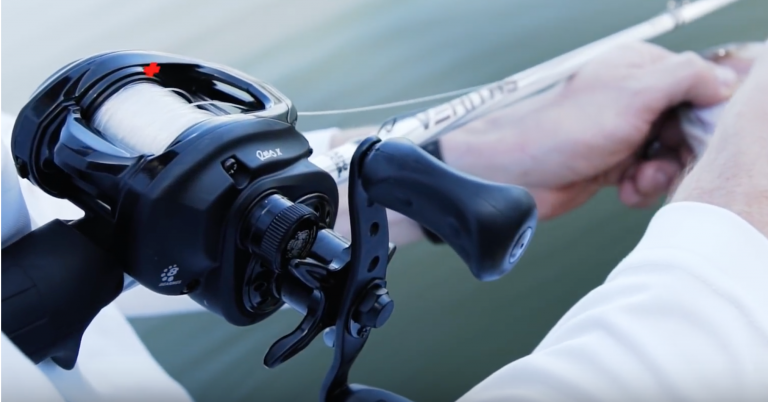 Best multiplier reel beach casting at a Glance:
Abu Garcia Pro Max LP – Best professional baitcasting reel for the money.
SHIMANO CITICA 201I – Top rated, best balance of cost and performance.
Daiwa Steez – Best multiplier reel at premium segment.
Best multiplier reel for boat fishing at a Glance:
Shimano Corvalus 301 – Best multiplier reel for boat fishing.
Daiwa Accudepth Plus 27lc – Best budget multiplier reel with line counter.
Abu Garcia Ambassadeur C3 – Top rated, Best choice for boat fishing.
Best multiplier reel for beginners at a Glance:
SHIMANO CITICA 201I – Best beach casting multiplier reel for beginners.
Shimano Corvalus 301 – Best trolling reel for beginners.
What is a multiplier reel?
The multiplier reel enables with a single handle turn to lead to multiple reel reverses/turns. And, probably, you have already heard that the range of throwing with its use does not depend on the line or rather – its thickness. Also, this reel can boast its huge pulling power and sensitivity. And if you want to understand in details fishing with the use of multiplier reels and select the right model, then this article is for you.
The multiplier reel should be chosen:
for a specific rod to get a good balance in weight,
for a specific way and technique of fishing,
for a specific jig weight.
Multipliers today are mainly used for marine fishing, where long-range throwing is required, thick fishing lines are used and heavy trophies are caught.
The main characteristic of the multiplier is the gear ratio, which for freshwater bodies is usually 4.7-5.2. The power of multiple reel depends on this ratio.
Fishing methods and techniques with the use of multiple reels:
jerk fishing;
heavy jig;
twitching technique of large minnows;
lake and river trolling.
All these types of fishing involve heavy jigs to catch large predators. The power of the multiplier and their ability to work with rough gear is just indispensable, and other types of reels cannot be compared to them.
Types of multiplier reels
All multiplier reels can be divided into large groups by purpose and design.
For their intended purpose they are provisionally are broken up into:
Casting reels, designed for fishing in cast.
Trolling reels used in marine, river and lake fishing (weight of jig from 40 to 200 grams)
Reels for steep fishing (jig weight up to 600 grams)
Heavy Duty Multipliers (for very large jigs and large fish)
Multiplier reels for casting are lighter, simplier and cheaper. They should not be as powerful as the ones for trolling. Some trolling reels are equipped with a line counter.
By design the multiplicators are divided into:
round fishing reels;
low profile reel.
Round reels are heavier and more powerful, have impressive pulling and general power. Mostly all models of such multipliers are used in power fishing. They are used in trolling and heavy spinning, have cylindrical form.
Low-profile reels are designed for light and medium weight jigs as well as for fishing in cast. They are applied in spinning – jig, twitching, other ways and techniques, where the use of multiplier is justified. They are rarely used in sea fishing, have a thinner friction and are less large-format.
Multiplier reels also are divided into left-side and right-side ones. Left-side ones are good when moving from traditional spinning reels. The right-side ones are considered to be classic. The quality or working parameters of left-side multiplier are no different from right-side ones.
Low profile Multiplier reels
Low profile multiplier is the leader among light weight ones. The low profile insures a smaller angle of the line inflection, which reduces the line friction when passing it through the rings, this affects the flying distance.
Low profile multipliers are called catchy fishing reels.
The lightweight low-torque spool, which can be made of magnesium alloy, has fast overclocking.
This reduces the rod amplitude which is relevant in limited space.
Almost perfect brake system provides an excellent cast of light jigs.
In other words, the design features of such a reel do not allow to make it powerful.
The only disadvantage is the low body profile which does not allow to set up power gears, that is, gears, with a large area of contact engagement.
Most of low profile multipliers cost at least 50 dollars and are designed for jigs with the weighing from 1 to 30 grams – with a cord 4 – 15Lb. That means, if you need to catch using light gigs – set up low profile reels.
Round Baitcasting Reels
Classic barrel-shaped lightweight models, work in a heavier range of 7-60 grams with 8-20 Lb cord.
It should be noted, that the profile type (low or round-type) does not reflect the realistic weight category of the multiplier.
Shooting "classic" is the type of reels which are in terms of production volumes inferior to the mighty models for Big Game but are well suited for our conditions.
These are medium class reels designed for jigs weighing 15 – 80 grams.
They are quite powerful and can throw heavy jigs over long distances.
They are distinguished by the power mechanism, increased width and larger spool diameter.
The larger spool diameter is the longer is the flying distance, this is due to the fact that the rotation speed is lower than the spool with a smaller diameter has.
After all, bearings in such models are not the most high-speed. Taking account of the mechanism simplicity it is easier with settings at medium speed.
Reel construction
The multiplier reel is much easier to use, but this product is equipped with certain systems ensuring its reliability and balanced operation. Let's list the main basic units and systems.
ACS or magnetic brake. (ACS ADJUSTABLE CENTRIFUGAL SYSTEM — adjustable centrifugal system.) There is a regulator on the end of the product body under which there are centrifugal magnetic cargoes – regulators. The regulator rotation according to the scale indicated on it brings the magnets closer or removes the magnets to the end of the rotating spool. Due to the forces arising between these two elements, braking is increased or weakened.
Baseband transmission gears. The gear ratio of the multiplier reel depends on this unit or rather on the number of teeth on its gears. And as you know, this parameter affects the traction and speed characteristics of the product. The smaller the gear ratio is the slower and more powerful is MR. If the gear ratio increases the fishing gear becomes less tractional but faster.
Mechanical brake. This is a rotation regulator which creates a certain pressure on the shaft underneath. In its turn, the shaft creates a pressing force on the spool due to which it begins to rotate with greater efforts.
Brake of friction mechanism. A star regulator located on the axis of spool rotation. It enables to change easily and smoothly the pressure force on the control washers of the friction mechanism. With its assistance the multiplier reel is adjusted according to the level of effort on the line created by the caught fish, after exceeding which the line will begin to be removed from the spool.
Uniform synchronized winder. The operation of this mechanism is based on the worm gear functioning. Uniform line laying from one spool side to another is executed at a variety of load levels. The mechanism of the line paver moves synchronously with the spool rotation which ensures smooth laying and absence of failures.
Braking Systems — Magnetic and Centrifugal
The reel braking system is crucial.
Setting up of the multiplier reel starts with adjustment of the friction brake.
All multipliers are equipped with two types of friction mechanisms:
mechanical (axial);
centrifugal (magnetic).
Setting up of the first one is necessary for a cardinal jig change with different weight, sailing and size. The second friction is necessary when braking the fishing line during casting. It does not require frequent outfit and is usually adjusted immediately after purchase or during the first fishing. Then it is not adjusted for a long time.
It is necessary to set up multiplier reels with maximally exposed centrifugal weights. Then, as necessary, you can switch off one pair by another one choosing the optimal operation of the friction. It is necessary to achieve that after the splashdown the multiplier itself stopped spinning. But it is required not to "overpull" the friction mechanism when the line will become slack with effort.
Best multiplier reel for beginners
We recommend these multiplier reels for beginners:

#
Preview
Model
Gear ratio
Weight
Price
1
SHIMANO CITICA 201I
The best beach casting multiplier reel for beginners
7.2:1
6.3:1
7.5 oz
$$
2
SHIMANO CORVALUS 301
Top rated multiplier reel for boat fishing
Best multiplier reel for beginners
5.2:1
10.9 oz
$$
What is the right way to adjust the brake for a beginner?
Put the magnetic one (or centrifugal) on exactly a half the braking force: magnetic one (10 point scale) on 5-6, in centrifugal split a half of brake disks. Mechanical one is adjusted so that when you hold the spinning parallel to the water, the jig slowly descends to its surface. Further, you just tuning the brake force under the conditions of catching using "thin" brake but without touching "thick" one. However, soon you will realize that you can throw without a "thick" brake.
Disadvantages of multiplier reels
Difficulty in the development of casting and wiring jigs. It is difficult for beginners to adapt immediately to catching with casting gear.
During each subsequent fishing or even with a radical change of jig, it is necessary to reconfigure the friction. Competent adjustment of the multiplier reel requires some experience, skills and previous knowledge of the fisherman.
At the initial stages of cast development by the multiplier the appearance of beards, which often repels beginners spinningers is inevitable.
Substantial weight of the fishing gear. This creates certain difficulties and inconveniences when fishing for long periods, especially when fishing from the shore or fishing with jerk jigs.
However, all the disadvantages of multiplier reels are more than compensated by their reliability, impressive power, durability and sensitivity of casting gear in general.
Advantages of best multiplier reels
Impressive power indicators. No fixed-spool reel is comparable to the multiplier on the developed pulling force.
Possibility to use very large and heavy jigs.
Possibility to make shots at the right distance and apply different techniques of animation to carry out the most attractive wiring.
The casting of the multiplier reel, its range and accuracy do not depend on the thickness of the line used. The quality of the throw depends on the technique of its performance.
It does not twist the line and this fact favorably differs it from the fixed-spool reel.
High sensitivity to sluggish and barely noticeable bites is ensured by placing the multiplier on the rod and a grip on the tackle, in which the cord is clamped between the index and the thumb.
The multiplier reel is durable and wear-resistant. It works confidently under extreme loads, withstands increased loads and is suitable for complicated fishing conditions. For example, when holding in the supports, the multiplier enables you to force playing in order to prevent tackle tangling and breaking, when the cut predator can hide under the snags or flooded tree.
TOP-3, Best multiplier reel beach casting 2019
#
Preview
Model
Gear ratio
Weight
Price
1
Abu Garcia Pro Max LP
Top rated professional baitcasting reel for the money
Best lightweight multiplier reel beach casting
7.1:1
7.9 ounces
$$$
2
SHIMANO CITICA 201I
Best balance of cost and performance
7.2:1
6.3:1
7.5 ounces
$$$
3
Daiwa Steez EX 100HSL
Best casting multiplier reel at premium segment
7.1:1
5.8 ounces
$$$$$
Abu Garcia Pro Max LP Review
Let's be honest: Abu Garcia Pro Max LP is not the most technologically advanced and efficient multiplier reel recommended for casting at the moment. However, it does much more, insuring consumers a balance of value and quality. In addition to excellent customization the model is equipped with an aluminum spool and a reliable graphite body, inside which there is a gears with a gear ratio of 7.1:1. There are seven corrosion-resistant rolling bearings with a decent warranty life, as well as one standard roller.
The weight of Abu Garcia Pro Max LP is only 207 grams — not a huge increase to the total rod weight and, as a result, low level of fisher fatigue from periodic bait casting. In the end, we get an impeccable model, the cost of which is fully justified by the catchment and all operational aspects.
Abu Garcia Pro Max Low Profile Baitcast Reel (12-Pound/145-Yard)
Shimano Citica 201 Review
Another representative of Shimano in the ranking is Shimano Citica 201I multiplier reel, which has been widely used in casting fishing. Under the lightweight aluminum body, which has a spectacular shape and silver-orange colour, there is a simple but very high quality mechanism with X-SHIP gears, Star Drag brake and implemented cast control system . Friction brake can withstand the force of 5.5 kilograms — good result for a reel designed to catch a predator in small reservoirs.
Since the model was presented to the general public in 2016, the anglers managed to conduct a number of real "stress tests", the results of which were very positive. The main portion of praise was to the accuracy of Shimano Citica 201I action and its "charge" on the fight, which is called, to the last. It is a pity but not everyone can afford this reel.
Shimano Citica 201I HG Left Hand Baitcast Fishing Reel, CI201IHG
Daiwa Steez EX Review, best casting multiplier reel
This premium segment fishing gear is actively used in sports competitions as it is suitable for various types of jigs and fishing. This super lightweight and easy to use bytester is placed in a steel case. There is nothing better than this! Its weigh is only 155 grams, placed in a steel frame of magnesium and steel sidewall, so it seems like you have just air in your hands! Super compact housing and full-size gearbox protection, plus incredible 12-bearing system (11 ball bearings + 1 Infinite Anti-Reverse roller bearing system (instant brake back) enables the ultra light dural reel to work exceptionally perfectly.
The design of the "curved" handle and the "asterisk" brake give a perfect start to worm gear and insure unmatched power. Add to this innovative MagforceV braking system, with the help of which the fisherman achieves an unrivaled throw without fear of "anti-reverse".
Combining super-precision elements made of magnesium and titanium, Steez offers uncompromising quality and performance.
INFINITE ANTI REVERSE is an instantaneous "infinite" rotor breverse stop.
Touch magnetic brake – MAGFORCE V (ANTI-BACKLASH CONTROL).
Magforce-V Automatic (Magnetic Brakes) – Revolutionary magnetic spool braking system combines the best aspects of modern magnetic and centrifugal braking systems, providing long-range and light cast.
Magforce-Z Automatic – The magnetic brake always has a number of advantages over the classic centrifugal, especially in settings and functionality. MAGFORCE-Z is the latest generation of magnetic braking system of the spool combining the best technological aspects of modern magnetic ones.
Free Floating Spool – Unlike other multiplier reels where the spool rotates on the axis in constant interaction with the drive mechanism, Daiwa has developed a unique system of Free Floating Spool, insuring independent spool spinning on precision bearings.
Super Drag – This precise and smooth friction adjustment system enables not only to handle trophy specimens easily, but also to use light gear and thin fishing lines, as well as to prevent annoying fish catches with strong jerks.
Infinite Anti Reverse – Instant reverse stop. Its role in modern DAIWA spinning reels and multiplier reels is performed by high-quality roller bearing.
Air Metal – Ultralight magnesium alloy with the best ratio of strength and lightness.
Engine Plate − These are plates set up on both sides of the reel frame, enabling to fix rigidly the support bearings and to center the internal mechanism relatively the reel axis.
Daiwa Steez EX 100HSL 7.1:1
Top-3, Best multiplier reel for boat fishing 2019
Best round baitcasting reels for trolling (boat fishing).
[table "2nbspresponsivescroll" not found /]
Abu Garcia Ambassadeur C3 Round Reel Review
The famous series of reels from Swedish manufacturer has a logical continuation in the form Ambassadeur C3 – an outstanding model of multiplier reel, created taking into account the developments and enormous experience of Abu Garcia engineers. Shining from the outside, the model conceals its true potential in the structural part, where the advanced mechanism and as many as seven ball bearings (+ one roller) are located. The Carbon Matrix system, consisting of six-beam centrifuge brake with a switch mechanism, is responsible for the braking effect and smoothness of adjustment.
If you consider this model from the point of view of ergonomics, in general, you cannot be distinguished anything with a negative comment. As noted by fishermen, the reel is perfect for trolling on river reservoirs, since neither forest capacity nor friction brake is suitable for "attempt" on marine inhabitants.
ABU GARCIA AMBASSADEUR C3 ROUND REEL
Shimano Corvalus 301 Review
If Shimano Corvalus 301 is slightly behind the main opponent in terms of the design and the applied mechanisms, the parameters of design and appearance can get the most laudable feedback. Fortunately, fishermen love it not just for this: for river trolling such a reel will be perfect.
The main factors influencing the choice of this model is the extreme working resource. All people who are not indifferent to fishing are aware of the fact that Shimano produces high-quality fishing equipment, putting into it not the largest list of parts and miniature units. In this case, only four ball bearings are used in friction pairs — as tests show, to ensure the proper characteristics no more is not required. The spool of the multiplier reel is designed for 240 meters of 0.3-mm line — insufficient for sea fishing but quite acceptable for river fishing.
Based on the results of a brief review, we can conclude that SHIMANO CORVALUS 301 will be a really good purchase, especially taking into account its low cost.
SHIMANO CORVALUS, Round Baitcating Freshwater Fishing Reel
Daiwa Accudepth Plus 27lc Review
In pursuit of the championship in the category of fishing reels, DAIWA often goes far beyond the main opponents. However, such measures become either redundant or useful, but not accepted by a wide (and unprepared) audience. In the case of DAIWA Accudepth Plus 27LCBW the role of such "excess" is played by the line counter set up on the multiplier — an interesting but very stupid thing for the fisherman, giving nothing more than rapidity.
Abstracting from trifles, we can say that constructively the reel is made to be rather reliable.
For sea fishing it, of course, is not enough, but for perch and pike fishing on a wide river it is perfectly suitable. Unfortunately, additional "envelopes" added to the cost of Accudepth Plus 27LCBW some money, which in some way pushed away even true company adherents. However, objectively, the reel puts out of business the majority of models which are in this market segment.
Daiwa Accudepth Plus-B Linecounter ADP27LCBW 12-20Lbs Test LH Retrieve Reel
Best Multiplier reel brands
Below there are TOP-5 brands of multiplier reels:
Abu Garcia (Sweden). The beginning of activity — 1921. It owns 58 percent of the world's fishery products. The company gained worldwide fame after the release of the "Ambassador" coil, which later reproduced a huge number of varieties. This reel still is the most popular among fishermen all over the world. And the first copies of it has taken an honorable place on the collectors shelves. (abu multiplier reels / abu multiplier /)
Shimano (Japan). It was also registered in 1921. Originally produced bicycle parts. Fishing accessories have been produced since 1970. The record range cast is set with its "Aero" reel. (shimano multiplier)
Daiwa (Japan). Year of establishment is 1945. It started with the production of fishing accessories, which have been produced until now. Daiwa multipliers are primarily Daiwa Steez, Daiwa TD Zillion and Smak. "Classics" — Daiwa Millionaire, Bayard and TD-Luna. (daiwa multiplier reels)
Banax (South Korea). Year of foundation is 1973. It started as a joint venture with Daiwa. Than it separated in 1996. The production is aimed at maximizing the quality and this attracts the attention of fishermen.
Okuma multiplier reels. Okuma presents a high-tech range of multipliers. Among Okuma multiplier reels models for spinning there are all types of fishing: trolling, fishing in a cast or in a plumb.
Penn multiplier reels (USA). Works since 1932. It is distinguished by the variety of products offered. Its assortment includes more than 280 items. The development of reels is focused on both elite and democratic buyers with equal quality for both. penn multiplier reel / penn multiplier
When choosing a multiplier reel, you can safely trust any of these 5 brands. Whether it's a low-profile, classic or trolling reel, it will definitely last for a long time.