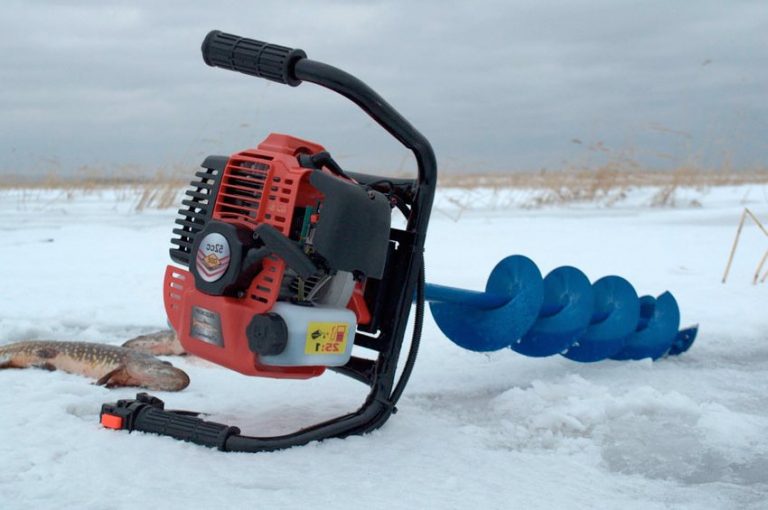 When the time to take out the ice fishing gear comes, do a thorough inspection of your ice auger before heading out on a fishing expedition. The seasoned ice fishermen consider an ice auger one of the most essential tools, so make sure you carry one that will suit your needs the best.
Quick Picks: Best Gas Ice Auger

Whether at times you like to challenge yourself with hardship of using a hand ice drill or simply rely on the convenience and ease of a gasoline-powered ice auger, brands like StrikeMaster, Eskimo, Jiffy, and more, are on the top of the range and offer the supreme quality ice augers designed for the toughest fishing conditions.

The gasoline ice augers provide a real deal power paired with radically progressive technology. This makes these machines powerful, lightweight, noiseless; razor sharp auger blades cut like a diamond drill. Let us take a look at the most popular gas-powered augers on the market today:
Gas Ice Augers Compared
Preview
Product
Details
Engine
Price
THUNDERBAY
The best ratio of price and quality
Review
10" diameter
40.5 pounds
2-cycle engine
52cc
$$$$$
Eskimo Mako
Editor's Choice
Excellent 2-Cycle Engine
Review
8", 10" diameter
42" length
32 lb, 34 lb weight
2-cycle
43cc
$$$$$$
Eskimo F1-Rocket
Another Great 2-Cycle Engine
Review
8", 10" diameter
42" length
22 lb, 24 lb weight
2-cycle viper
$$$$$
StrikeMaster
Great 4-Stroke Gas Ice Drill
Review
10"
23lb weight
4-stroke
35cc Honda Engine
$$$$$$
Jiffy
Lightest Gas 4-Stroke Ice Auger
Review
6", 8"
26-28lb weight
4-stroke
38cc
$$$$$$
Best Two-Stroke Gas Ice Augers Reviews
THUNDERBAY B52 Ice Auger Review

ThunderBay's B52 gasoline ice auger delivers power and boasts an extremely easy starting engine that allows an ice fisherman to drill holes in the ice really fast. This 10" ice drilling machine is equipped with razor sharp high carbon steel blades.
Featuring two-cycle engine (52cc) that provides incredible power and extremely fast drilling, supercharger that ensures easy engine start in all ice fishing conditions, cutting blades made of high carbon steel, oversized recoil handle that allows to put your hand without removing a glove, ThunderBay delivers excellent performance at all times.
This machine will be easy to assemble and setup even for a beginner, it is easy to operate. The cutting blades are unbelievably sharp even after using the machine all winter long. Well-worth buy!
Eskimo Mako Quantum Review

On top of a lower price tag, two-stroke augers have a simpler design that sometimes could be seen as an advantage: it is easier to set them up and fix them yourself. The Eskimo Mako ice auger boasts a two-cycle engine (43cc), a primer to "prime" the engine before starting, and an oversized mitten grip starter handle that allows to operate the auger with mittens on. Other features include the fingertip-operated throttle control to control the applied power and foam-covered steel handlebars to ease vibration when drilling. The see-through gas tank allows to check the level of fuel when you are out on the ice.

Many reviewers stated that Eskimo Mako auger is superbly efficient, it requires unbelievably little amount of gas to drill multiple holes over the longest ice fishing trips. Quantum™ dual steel blades paired with precision transmission provide you with ultimate cutting power. The blade protector is included; make sure to use it to extend the lifetime of the blades. Pick your auger and equip it either with an 8" or 10" blade considering your own fishing needs. The 8" model weighs in at 31 pounds, while the 10" – at 33 pounds.
Every aspect and detail of Eskimo models are thoughtfully designed and duly tested to ensure the best operation on the ice.
Eskimo F1 Rocket Review

With engine models ranging from 33cc and up to 71cc, gasoline-powered Eskimo ice augers provide an ice fisherman with exact amount of power he might need while on an ice fishing trip. All-metal ball-bearing transmissions and Eskimo Quantum or Eskimo Rocket ice auger transforms this power into a trouble-free and fast cutting through the ice.

Eskimo Rocket ice auger features a two-cycle engine (33c) that was tested for the toughest weather conditions, streamlined transmission for higher and cleaner speed, redesigned powerhead, new type of handlebars made of aluminum to shield the redesigned engine, cast bottom that provides smooth cutting and breakthroughs, long-lasting signature Quantum blades able to hold their edges in the ice. A blade protector (included) extends the lifetime of the cutting blades.
According to the most reviewers, it is an excellent auger, it cuts holes fast and is extremely light. The only negatives worth to mention are that the cutting head ices up really badly when the temperature drops below zero.
Best 4-Stroke Gas Ice Auger Reviews
StrikeMaster Gas Powered Ice Augers Review

Honda has engineered and pioneered in StrikeMaster a 35cc four-stroke engine that is believed to be quieter and environmentally cleaner than its two-stroke counterpart. This kind of engine allows to start up the auger instantly. StrikeMaster stands out from the rest as it masterfully combines noiseless performance, precision, reliability, and very clean speed.
Reviewers like the supreme efficiency of the StrikeMaster auger, with its dual 10" mora laser blades specifically manufactured to cut the thickest ice, making a big hole that is perfect for a fisherman to target larger fish (pike or trout). Turn on your StrikeMaster and enjoy fishing rather than drilling holes. Long-filament handlebars reduce the impact on your hands and arms, gear casting made of polymer keeps this machine as lightweight as possible. In spite of that, considering this machine's measurements (42.8" x 17" x 11.5") and weight (26 lbs) it might not be a good pick for those who prefer to pack light on ice fishing trip. Watch out for the plastic handles too.
This auger delivers smooth and quiet performance, starts quick, cuts clean holes. All in all, StrikeMaster Is a good purchase.
Jiffy Gas Ice Auger Review

This machine is the lightest gasoline-powered four-stroke ice cutting drill. It effortlessly starts in extreme cold. It is quiet as four-stroke engines deliver noiseless performance, but nevertheless powerful as features multi-positional overhead valve engine. Low maintenance – it does not require much fuel.
The auger is good for initial drilling and redrilling of holes in the ice when ice fishing. It is available in two sizes: 6″ and 8″ drill assemblies. Weighs at 26 or 28 pounds depending on the size of a drill. The easysnap blade protector is included. Drawback: some reviewers have stated that it is difficult to drill through a thick layer of ice.
Overall, this product is reliable, practical, easy to handle, durable, and manufactured for the toughest ice fishing applications.