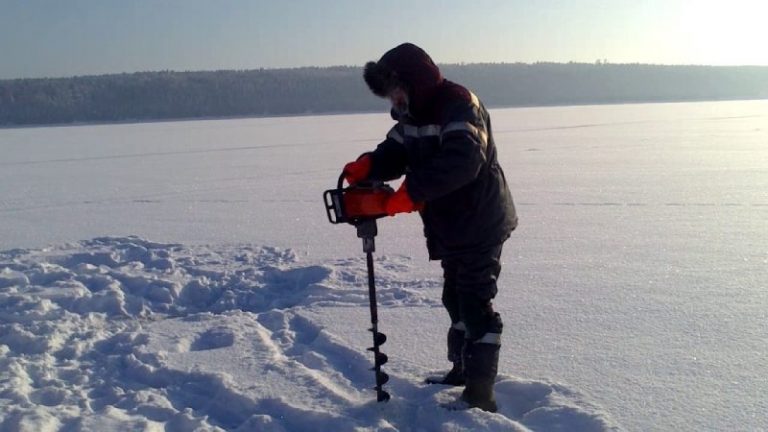 Why Go Electric?
When it comes to augers, their task is to drill a certain number of holes in the ice. A lot of power will be required to complete the job here, so a quick use of an electric ice auger will do. Once a lithium battery first appeared on the market, chances were it would not gain the leading position with augers, replacing their pre-historic gas-driven technologies soon. Now, we are witnessing the real ice auger boom in the industry. So welcome to the world of electric drill ice augers! Now, it's a common truth, electric augers have become one of the most affordable options for the decade. Their low cost, extra functionality, and efficiency, as well as their high mobility and availability, made them number one and nearly smashed down the popularity of gas-driven models. These are also ideal to be easily used by beginners. Finally, their ultra-quiet operation will never distract fish from your location.

Of course, you should know, electric augers are usually more expensive than their traditional gas-powered rivals. Yet this disproportion can be justified, once you learn the true benefits of going electric. Our further seriously researched review is to give you all the necessary info to make an informed choice and pick a model of an electric drill auger that suits you best. If you are a night angler, these even have their built-in spotlight for drilling at night!

As their basic pros, electric ice fishing augers reveal their revolutionary potential to perform with great power. This is what gained them victory points over traditional gas/propane augers. Owners of the battery-powered ice drill augers do not suffer any annoying disturbances traditionally caused by gas drills. They constantly benefit from having no need to warm up their drill, built-in reverse option, at the same time it releases no fumes or makes no roar. Just imagine, there is no cord to pull it, no fumes to hide away from, and the thing is actually a really quiet one. As a matter of fact, electric augers feature a highly-productive performance option to drill a lot of holes just in no time as their core benefit, they are praised for high capacity and their constant peak power features.
Well, here goes our
Best 6 Electric Ice Augers Pick
Comparison of the Best Electric Ice Auger
Top 6 Electric Ice Fishing Auger Reviews
ION Electric Ice Auger Review

If a world's best electric auger could be better, this is exactly the case. The manufacturer of this top-rate ice auger with reverse turned over all the stones on the way to achieve even greater results: now, this one is built to make more ice holes while doing that with ultimate precision and ease. Here the battery with increased by more than 60 percent of its charge capacity is featured for longer service with no stop. The feature enlarges the capabilities of the auger to drill, re-drill and cut through the ice with more efficiency and power. Innovative technologies used here will surprise an experienced angler, this model is a perfect sample of what a lithium battery-driven ice auger can do, and let us assure you, it does all the hard job with ultimate efficiency.

PROS:
Ultimate efficiency with this mess-free option
Extra-smooth cutting
Progressive reverse system for better results
Incredibly powerful charging system for perfect performance
Extended battery storage capacity even greater than with the original
Featuring an innovative aluminum cast bottom to cut more ice hoes with precision
Innovative blade to be positioned and centered the way it enables ultra-precise multiple purpose cutting through the ice
Featured here are two innovative light flashes for night fishing and shelter-covered operation
CONS:
StrikeMaster Ice Auger Review
Here goes another all-new option, the main alternative to the superior electric ice auger as we reviewed first, a solution for a seriously experience-driven angler. Among the core advantages of this model, there are a few to be named from the very start: it is lightweight and extra-power. Here, a complex solution of a powerful lithium battery and a brushless electric motor had been applied by the manufacturer to enable your stable efficient and reliable drilling. Both legendary and innovative type cutting blades are featured here for a highly-balanced efficient performance on the ice.
This one is ergonomically designed, revolutionary engineering and control function will give you a perfect fishing experience.

PROS:
Both legendary & innovative solutions
Featuring a powerful brushless motor for best performance
Featuring the best unique gear system
On button with a safety switch
Both forward & reverse
LED lights featured here as built-in options for night and shelter control
Durable ergonomic all-weather resistant handles for your sure grip
Unique cutting-edge blades for deeper and more ice holes
Stainless steel on serrated blades
High-capacity lithium top-brand battery with unique internal management
Featured here is a charging station to recharge the battery every 2 hrs.
Single-charge ultra-high cutting capacity
Limited manufacturer's warranty on the motor, battery & charger for two years.
Landworks Electric Auger Review

Meet another one, a potential workhorse for both beginner and advanced angler, a heavy-duty lightweight and extra-powerful option for drilling, after-drilling, cutting-over, etc. ice cutting/drilling operation. Here again, a unique gear system performs greatly to enable your non-stop operation. This one is a representative of the Eco-friendly series ice augers. These, unlike their gasoline rivals, produce no fumes and emission. It works just fine, and what is the most important for a fisherman willing to catch the fish yet not frighten it by the noise, this model works quietly.
PROS:
Upper-hand technologies applied here
Cutting-edge equipment to empower efficient fishing
Featured here is an eco-friendly & ultra-safe solution
Greater efficiency with front-end battery rechargeable
Ultimately balanced control and firm grip due to the ergonomic safe & durable handles
Ultimately smooth and high-performing equipment for ice fishing
Unique transmission for better results
Top-rated brand battery (lithium) included; optional extra battery available on request
An item for stress-free shopping due to the unique customer support and authorized sellers chain.
Trophy Strike Ice Auger Review

This cordless auger is a model to be purchased at an affordable price, it incorporates all the recent innovations like more expensive ice augers. It looks and performs great. This goes as a complete version with a brushless brand-unique gear motor with both forward and reverse action to enable your power-driven perfect performance under toughest conditions. Subzero temperatures will be no problem for this to cut smoothly with no jagged edges. More power, more ice holes, more fish! No toxic fumes released while operating. It is efficient and really quiet. While inside of your fishing shelter, there will be no need to leave it when cutting through the ice to catch your big game. Trophy Strike to hunt for your fish trophy with ease!
PROS:
Cutting-edge technologies at the best price
Eco-friendly and safe option for the entire family
Extra-powerful and perfectly performing
Highly-efficient, up to 90 ice holes on a single charge
Ultra accuracy and precision
Lightweight option for better comfort and easy transportation
Featuring a brushless reliable motor for drilling in the cold
Featuring a bottom centering ring for efficient re-opening performance
Destroys ice chips and built-ups with ease
Larger holes and extended depth – great for a big game
Jiffy Lightning Electric Ice Auger Review

If you are looking for a really efficient low-cost electric auger to perform with splendid results on the ice, why not have a look at this powerful auger with lithium battery and brushless motor? This model also features the reverse drill operation feature to easily free the blades from the hole, as well as to efficiently clean up and over-drill the frozen ones. An innovative option to easily start the motor is featured here. You'll find the specially designed blades ripping ice with instant effect great. The manufacturer gives a 2-year warranty for the battery. As for the comfort, the easy-grip ergonomic handles will provide for your sure grip and safe operation while drilling the holes.
PROS:
Fast and furious, easy-use Lightning to rip the ice
Cutting-edge technologies at low cost
Extended power and reverse drill action
Prolonged action with high-capacity lithium battery
Unique comfort-grip handles for better control and safety
Brand-new Ripper blade assembly
Limited warranty for the battery
RAZR Ice Auger Review

Now, this one is from a well-known for about a decade manufacturer notable for the high-quality fishing gear products. This model is a brand-new one, an electric ice auger to combine both power and extended efficiency due to the lithium battery that operates for a longer period of activity on the ice and the ability to cut more holes on a single full charge. Cut through even the thickest ice pile with no extension required! Featured in this model are the highly-performing blades made from stainless steel. Once you are on the ice and it is the early morning, turn on the built-in bright LED flash. The same light will be handy at night or in the dull evening. Replace the battery really quick to continue the hunt. Low battery indication will help to identify the lack of power on the auger. Also featured here is a recharger for your nearly instant reload.
PROS:
Really inexpensive option
High-end technologies and extension-free operation
More power with lithium battery to cut more holes on a charge
Really long and ultimately efficient auger to cut through the thickest ice
Featured here is a durable aluminum transmission
Nearly the best ice-cutting steel curved blades technology reported
Day & night fishing enabled thanks to the light with easy on/off control
Ergonomic advanced handle for better control and safe operation.
How to Choose the Best Ice Auger
To be frank, the right one from the very start will save you time and money, so choose right!
Essential Tip1: The larger is the blade of the auger, the deeper will be your ice holes. Going after some large game will require larger holes! Choose here from rotary-, point-, or serrated blades types for the best efficiency you require.
Essential Tip2: Once you choose the number of blades, consider getting a four-blade option for speed and greater super-powerful performance!
Essential Tip3: Get one to allow you making one-charge numerous holes. Fetch a pair of spare batteries to feel on the safe side or for a longer fishing trip!
Essential Tip4: Longer warranty stands for better and more stable products.
There is a list of crucial factors you need to consider while choosing one. As the most essential factors to consider while looking for an electric auger to buy are: weight, reliability, the type of blades, level of the noise, its battery type, durability of the materials it is made of, and, of course, manufacturer's guarantee, if any. There will be tons of options on the market. Stick to the notorious brands, rely on your instincts, consider your options and check for your real needs. Then just go ahead and pick the model which suits your task best.
Conclusion
We've reviewed the currently available optimal models and compiled our own best 6 chart for you to demonstrate their really great abilities and capacity, as well as to enable your right choice while looking for an auger to buy. Gas augers have been for so long have been for so long champions to be praised by customers, advanced electric options became extremely popular due to their safe and noiseless operation, as well as these proved to be extremely easy to be used, maintained and carried while performing with extra-mobility and potentially extended power.