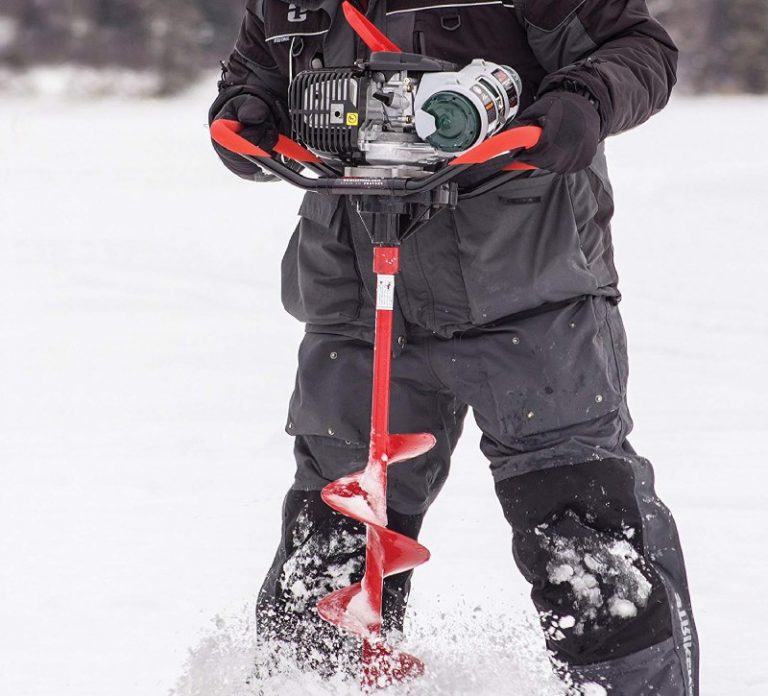 In 2014 Eskimo created and launched HC40, the high compression 40cc propane auger, an innovative ice drill developed from the ground up to optimize the benefits of liquid petroleum gas, referred to as simply propane. Instead of modifying its own gasoline-powered engine to run on propane, designers at Eskimo constructed a progressively new high compression engine. The launch of another Eskimo's line – Rocket Augers – contributed to further success of the HC40.
Top 3 Propane Ice Augers at a Glance
Propane Ice Augers Compared
Preview
Product
Details
Engine
Price
Eskimo Propane Auger
Editor's Choice, best overall propane auger
Review
Diameter 8", 10"
Length 42"
Weight 32 lb
4-Cycle Viper
40cc
$$$$$
Eskimo Propane Rocket
Affordable alternative to the HC40
Review
Diameter 8", 10"
Length 42"
Weight 26 lb
4-Cycle Viper
40cc
$$$$
Jiffy 46 X-Treme Propane
The best ratio of price and quality
Review
Diameter 6", 8",
9", 10''
Weight 32-36 lbs
OHV
4 Stroke Engine
49cc
$$$$
Ice augers running on propane fuel offer an ice angler a good number of benefits as compared to the gas-powered drills, as there is practically no maintenance required, propane is stored inside the bottle as a colorless, odorless fluid, it is easy for transportation, burning clean with little emissions, and lastly, there is no need for a primer button to start up – just twist on a 1lb propane cylinder, turn the switch to 'on', use an oversized mitten grip recoil handle and start your ice angling adventure. No need to fill up a gas tank or prime an engine.
Company's best models in this category, Eskimo HC40 and Eskimo P1, feature a powerful 40cc engine with high compression ratio to provide an ice angler with numerous advantages when on a fishing trip creating holes in the ice. All of this power is subsequently turned into fast and efficient cutting ability.
Propane Ice Augers Reviews
Eskimo Propane Auger Review

These days many ice anglers give preference to Eskimo Propane Ice Auger, a reliable, clean burning, and powerful alternative option to gas augers. Its 40cc four-stroke engine that virtually does not require maintenance uses the benefits of propane fuel, meets minimum emission standards, delivers clean cut results. With this type of fuel system there is no more need to prime the engine – simply switch it on. The Eskimo HC40 Ice Auger offers signature Quantum cutting blades for clean cuts and breakthroughs even through the thickest ice.
As many reviewers stated, it starts in one pull even at subzero temperatures, and cuts ice astonishingly fast. No more smell of gas, stains in the car, ethanol safety concerns, or worrying if the auger will start when you get out on the ice. Seems well built for years of trouble and maintenance-free operation. The only negatives worth mentioning are relatively insignificant: the clasp that flips over to hold the propane cylinder is pretty flimsy, it might bend, handle it gently.
The reviewers overwhelmingly praise the high compression engine as it offers plenty of power when drilling through the ice. This auger tips the scale at 32 lb, which makes it heavier than the electric and gas augers currently on the market, but beats them significantly by performance. Combine all this and you will feel good about this purchase. Bottom line, it drills fast and seems to have plenty of power, a very good buy!
Eskimo Propane Rocket Review

If you are a passionate ice angler, you will probably like to try a propane fuel auger that is manufactured with the needs of an ice angler in mind. The Eskimo Rocket Ice Auger is a reliable, durable and powerful tool that takes most of the problems of gas augers from you, and still delivers the power required to quickly create multiple clean cut holes. Its improved powerhead effectively encloses the High Compression 40cc 4-cycle engine to power both an 8″ and 10″ augers for nonstop drilling. Razor sharp blades, designed to last for years, ensure high cutting ability and smooth precision. Blade protector is included.
Other features include a quick-release bottle holder for 1lb disposable propane cylinder (not included); aluminum handlebars, conveniently covered with foam, to provide a solid platform while significantly alevating the strain to your wrists and shoulders.
Powerful, with incredible speed, quiet, lightweight and easy to transport. The high price tag may discourage some ice fishermen to make this purchase, but keep in mind that you will get a top-end quality instead. In addition, some might see it a hassle the need to keep propane fuel warm to use in cold temperatures.
Jiffy 46 X-Treme Propane Review

JIFFY 46 X-Treme Propane Ice Auger, constructed based on the previous Jiffy model, brings the ice drilling process to a new level. Considered currently the most powerful propane ice auger on the market, the 49cc four-cycle engine definitely provides maximum performance for quick and trouble-free drilling in any weather condition. This auger offers numerous features including new redesigned wide stance handles for increased control and less fatigue, improved durable serrated ripper blade and power point blades that cut much faster and last 2 times longer than other comparable blades on the market. Available in 6″, 8″, 9″, and 10″ drill size assemblies.
According to many reviewers, the Jiffy high powered 49cc engine is easy to start, they praised no choke, no priming, no flooding characteristics. A redesigned serrated blade system that powers through the ice makes Jiffy an ideal choice, whether you need to cut one or multiple holes. Price could be a factor here, as this product is on the expensive side. It is also worth mentioning that as with any propane fuel auger, cold temperatures make it difficult to start the machine if propane is not warm. Many reviewers are pleased with the increased engine size, drspitebit brings extra weight.
Overall, it is a great product. No mess, no mixing fuels, starts with one or max two pulls and runs for long time on one bottle of propane.