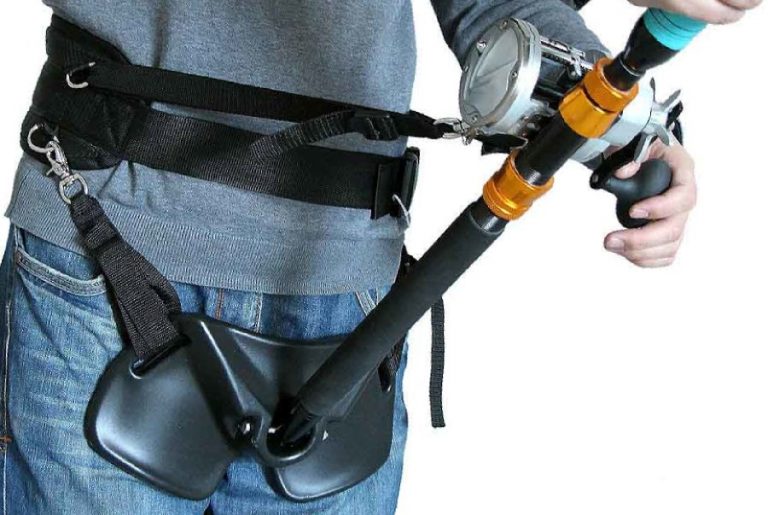 All of these will give you the best choice while battling your toughest game fish, and you'll stand in comfort! The comfort we talk about is the one provided by these rod belt and harness systems as below, specially designed for your epic stand-up offshore fishing action while going for either wahoo or marlin, tuna or sailfish, and mahi mahi or shark.
A Fighting Belt As It Is

The best fish fighting belt under consideration is a manifest of one of the most advanced mean by which you secure the base of the rod. This makes possible to spread the weight or the load just across your thighs.
The belt as it is provides an angler with a sophisticated pad which shall house a cup. We place the rod's gimbal into the latter. The gimbal itself usually is equipped with a special slot, and this slot sits over the pin fitting in the cup. The pad's size will vary depending on the rod's class.

Those lighter line classes, say 30lbs class, will definitely constitute some smaller pad. Resulting forces applied will be much higher if an angler uses heavy (80-130lbs class) gear together with the pad; the pad in this case will be larger. That will be necessary to spread the load across your thighs evenly.
The pad is usually supported like follows:
using a belt around your waist or, which would be ideal,
suspended from drop-straps, the latter being attached to your harness.
In any case, your regular set-up should be adjusted with the belt and harness in required position, and the angler should firmly hold the rod.
TOP-5, Best Fish Fighting Belt at a Glance
AFTCO Clarion Fish Fighting Belt Review

optional tackle, 80-lb and up to the unlimited load
EVA foam pad with closed – cell backing
anodized stamped (gold) aluminum front plate
web straps to accommodate 28″ – 50″ waist sizes range
easy-adjustable gimbal pin made from stainless steel
The Clarion Fighting Belt was specially designed for its unlimited tackle use. The device comes as that being super-thick, having a foam back pad from closed-cell EVA that was specially designed to enable both maximal comfort and leverage. Provided that your belt is positioned evenly across your each thigh, and is placed relatively low, the resulting load will be evenly distributed to make your stand-up style maximum pull possible while fighting big fish from a boat.
All in one – advanced design, state-of-the-art materials and exclusive comfort, the AFTCO Clarion™ proved as the ultimate fish fighting belt for dealing with the big game fish.
One should note the integrated heavy-duty back pads which are here a co-molded option; these are super durable, and at each side of a pad they feature posts to accept the unique Quick Clips system, which makes it possible to snap your belt ) in place utilizing straps/optional (drop) straps. All belts also feature their unique gimbal pockets. These are made of special super-strong molded nylon (glass-filled) engineered to quickly guide the butt of your rod into an optimum position to fight the fish.
The materials that were proudly used in its build would definitely speak for themselves, they also would tell you the telling tale of how durable this belt can be. The material chosen for this belt is EVA foam. And even more, here an angler will find the front plate made of gold anodized metal, the latter will never get rusted!
Another perfect option to enjoy, the straps are easily adjustable, so you do not have to worry that much about your actual waist size! Furthermore, the gimbal regularly comes with an adjustable clip that makes it easy to attach the rod. As the only downside may occur that you might find the belt a little bit heavy. Nevertheless, the great news is that the fishes will find it heavy too! Have a good catch then!
Guides Rod (Molded Design) to Fight Big Game Fish
The unique design of this fighting belt featuring molded solution to efficiently guide the rod butt straight into the gimbal. This comfortable fighting belt is virtually ideal for your getting the most efficient leverage while fighting tuna, wahoo, marlin, as well as big yellowtail. Comfort of this exact device is provided by the durable polyethylene pad engineered as a waterproof closed-cell item. The pad features its special texture design necessary to firmly keep the belt positioned in place as well as the appropriate body ventilation – all this to prevent your body overheating amidst the battle! Putting on the best fish fighting belt is quick and easy thanks to the nylon strap that is easily adjustable as well as by unique Quick Clips™ devices. The Clarion can be easily matched up with that of the MaxForce™ harness – to ensure extra leverage added. The pin of stainless steel in the gimbal (glass reinforced) can swap from its vertical to horizontal position.
Key Features:
Very original molded plate design that guides the rod butt quickly straight into the gimbal
Spreads low and evenly the fighting load (across your both thighs)
Aluminum plate from stamped metal for your better leverage and fighting comfort
Waterproof thick textured pad to prevent slippage and provide proper ventilation
Super strong gimbal pocket from glass-filled nylon specially engineered and molded for your optimum stand-up position while fish fighting
Special gimbal pocket's pin (stainless steel) to be easily adjustable both horizontally or vertically
Stand-Up Fish Fighting Belt designed similar to Socorro for 50—80 lb. fishing test line
Highly-compatible with MaxForce™ harness for added leverage
Floats when fall overboard
Pros
Very high quality; great materials used in its build-up making it durable
Exclusive comfort to wear due to the foam
Convenient adjustable straps to enable your fastening it around your waist and to the rod
Cons
You might find it a bit heavy
Braid Products Fighting Rod Belt – Power Play (Small/Large fitting)

Another ultimate fighting comfort item for your set-up when targeting at a big fish. Perfectly performs and proved to be easily-adjustable on your thighs, thus evenly spreading and levering the fighting load to ensure your best comfort and optimum fighting fish position. Below is the short list of the main advantages of the model.
Pros
Proudly manufactured in the USA
Quality materials
Heavy duty stand-up style fighting belt for adjustable drag tackle
Large contoured backing, padded for each thigh, for maximum comfort while moving around the fishing boat
Braid "V" shape design to guide the rod butt quickly and efficiently
Extra wide front pad to equally spread the resulting power
Frontal molded-on option to host pliers or cutters (not included)
Built to match up to 130 lb. tackle; features heavy hardware (stainless steel)
Cons
Alutecnos Stand-Up Fighting Belt Review

The Alutecnos Stand-Up Fighting Belt is specially built solid of aluminium to provide for stability and strength on medium to heavy tackle range. This one is widely recognized as apparently simple in its extremely useful and practical appearance constitutes both attractive and functional accessories. Manufactured in the Italy.
Pros
Highest Quality materials (lightweight aluminum plate-style belt)
Breathable mesh construction
Evenly dispersed back support
Cons
PlayAction B800 Extreme Snap-On Belt Review

Like all the original models of the range this one is an easy snap-on and spring-out option to provide for your maximum fighting comfort and optimal position while targeting stand-up style at the game fish. Snaps on and is usually easily fixed around your thighs, its special design closed cell padding provides for even higher firm positioning option over the original belt. The B800 belt is extremely durable. This one features a gimbal ball that rotates horizontally and vertically almost 90 degrees. Sizing is read by its color variation.
How To Tip
To obtain your ultimate fish fighting comfort put on the belt, for which purpose you should only spring your arms open, then snap your fish fighting belt on – well around your thighs and into place.
Attention! Please note the sizes are based on thighs not waists.
You will find it ultimately comfortable to wear due to the closed cell pad.
Pros
Snap-on style to easily put it on and position firm on place around your waist
Useful and effective swivel gimbal
Ultimately comfortable thanks to the material used
Reasonable price and the great value
Cons
Its snap-on action may occur not suitable while heavy-weight fishing.
Pellor360°Adjustable Padded Fishing Fighting Belt Review
Rod Holder – Offshore Tackle Boat Fishing


The next in the row, this model acquired all the benefits of similar items. Specific features of this are the following: it is built from highly-durable and notoriously durable ABS plastic, benefits from its impact resistant touch option, extremely functional since it features the 360°rotary slot, special padding backing to provide for a lesser strain when fighting a fish, as well as efficiently protect yourself and your fishing rods!
Pros
Seawater corrosion resistance option!
Simple prop , easy-to-carry rod pocket
Easy to put on and off
Adjustable waist belt
WORRY FREE warranty for 6 months; free return (30 days) should you be not satisfied with your purchase
Low price
Cons
ABC plastic parts may occur less strong when compared to metal (stainless steel)
Some Final Thoughts
The key to using stand-up style fish fighting gear is to learn the most efficient way to use your own body, and battle the fish utilizing your class of the tackle at maximum. An angler should always remember: each specific system is characteristic of some slightly different parameters, that is the pivot point, and the angle of functional pull! So, you should learn how to use your own weight thus maximizing your ability to apply your proper balance against some specific drag pressure.
We highly recommend using your fishing gloves (full-fingered version, Bluefever Series, for example, made by Aftco) while operating in your fish fighting belt when dealing with heavier line classes! These are also essential to be used while dealing with 80 to 130-pound gear. Such full-fingered gloves will efficiently protect your fingers in situation when you are to wind your line up onto your reel or will help you to keep the better grip on both your line reel and your fishing rod.
Caution! Regardless of line class you actually use, make sure you never try to get more line simply by the way of raising your rod tip any higher than 45 degrees! Be assured, you'll rarely gain more line this way! Instead, remember to settle into a kind of your rhythmic motion, rising and falling, that is to say, which mode proved necessary to make the fish move towards an angler. By using your body weight in appropriate way, you can stay comfortable and rested, at the same time maximizing your permanent pressure on the fish!