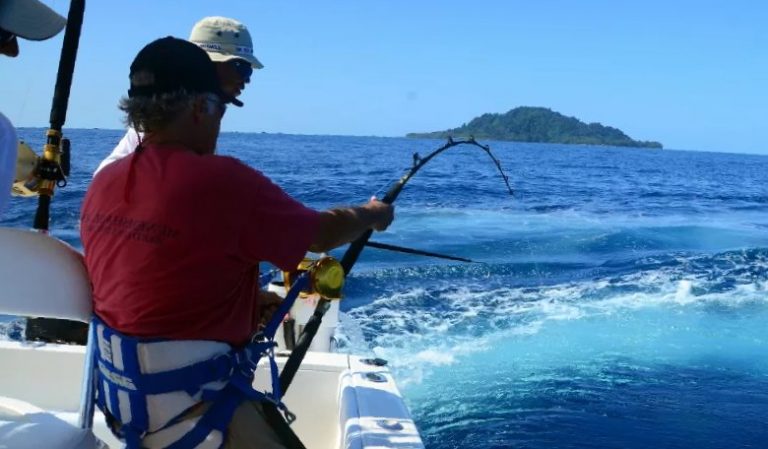 The device efficiently secures the reel to the body of an angler with the purpose to evenly spread the weight which is being applied to the angler's rod. Fishing harnesses should be, as a rule, attach to the top of the reel lugs, specially engineered clips to be applied here. One can differentiate between the variety of harness types, all of these being specially engineered with its aim to offer an angler many different ways to enjoy the right load spreading. The 'kidney' and 'shoulder' basic types of the described harness are the main types to consider. There are some sit-in pads featured with several models of the kidney-type harness, the latter is to easily allow your using of own weight to achieve your maximum leverage, all this to be achieved with minimum or no harm to your comfort.
Being generally considered a better option while dealing with the lighter class angler's gear, for instance, those of 20-50lbs class, shoulder types are usually the best choice for this specified class, while all kidney- and sit-in styles should be preferred as better options to suit for the outfits within 50-130lbs class range, but it is the matter of anglers' choice though, depending on your preferences and on how you feel your setting should be properly up.
When you are after the big game while stand-up fishing, no doubt you should be equipped with some style of a fish-fighting belt or any of the below harness. It is rather a must than a necessity. In this case, a harness that you combine with some type of a fighting belt, would be ideal for your stand-up battle, while fighting the big tuna, huge marlin or a massive swordfish. This comes handy, since you get a perfect option to re-arrange the supposed greater pressure applied to the fish, and at the same time to enlarge your body's area to which this strain is applied. Note, that if having a bucket harness conceptual type on, you are going to be allowed to simply sit back, and efficiently use the weight of your own body, that is to move a monster easily!
Below, you are offered to choose from the following major brands: Black Magic, Braid, Sampo, Alutecnos, Aftco and many more.
Consider the Quick Picks – Choose from our 5 stand-up fishing harness styles
Power Play Harness, Braid Products – Editor's Choice
Bucket Harness, Seamount Charles Perry Pro
Shoulder Harness, AFTCO HRNS2BLUE Maxforce – Best Fishing Harness
Offshore Fishing Fighting Belt, Pellor Fishing – Perfect Budget Fishing Harness
Shoulder Harness, Williamson Fighting
Power Play Harness, Braid Products (fits 26-56 inch) Review

This is our champion. Ultimate for the giant or largest fish in the ocean or sea and the heaviest tackle. No rivals in comfort due to its progressive all-in-one adjustable size/shape system. The perfect one, featuring each and every advantage as above.
Pros:
made of the finest materials at the market
experts' choice, actual design and ergonomics
ultimate for 80-130 and 50 of drag
fully adjustable independent of size and shape to achieve maximum comfort of the angler
engineered to withstand maximum pressure/largest size fish
exclusive quality stainless steel for all the fittings and snaps assured
included are special drop down straps – extras to be added to the Braid Power Play Belt
compatible with Braid Fighting Belts 30350 or 30900
Cons:
Bucket Harness, Seamount Charles Perry Pro [CP] Review

This would become your ultimate weapon when battling the greatest fish or a giant sea monster of your lifetime. Being an owner of the Charles Perry Pro Bucket Harness would enable catching your prettiest giant marlin!
Pros:
enjoy your own very legendary Charles Perry Pro Bucket Harness, the latter was proudly designed in close collaboration with the notorious IGFA Hall of Fame Captain Charles Perry!
totally capable of catching really big fish, ultimately superior, extreme comfort!
never collapse under pressure!
exclusive fit, actual and efficient spinal protection ability
salt proof, contains Memory Foam (NASA development)
being recently rave reviewed!!!
Cons:
Shoulder Harness, AFTCO HRNS2BLUE Maxforce Review

This one of the best fish-fighting harness provides for your perfect choice. It is mostly needed when you are standing any one of your epic reeling battles up. Extremely useful in cases you tend to use test lines of up to 50-pound range.
Note that this style of harness demonstrates its superiority being provided with specially designed padding for the foam shoulder and back covered with polyester. It also has special cloth liners from synthetic terry, and also enjoys the special mesh for the ventilation, all these features are extremely useful when seeking to distribute the load evenly and comfortably across your back.
The feature allows your upper body and shoulders to withstand the carried load while during your fights with large stubborn game. The type has four special ladder locks made from stainless steel that are easily adjustable for the angler's perfect fit under the load, at the same time the carabiner clips (stainless steel items) enable secure attachment to the reel lugs on the harness.
The extreme durability of this type of harness is efficiently enabled by its nylon webbing straps which are cross-stitched for better safety and extreme durability at all the critical locations. You will find also a specially designed mesh bag with unique grommets included for the angler's easy storage. This item will also enable easy rinsing with fresh water.
Remember, your AFTCO Shoulder Harness is, as the matter of fact, completely made of synthetics. That is the item is 100% machine washable. The most sizes and shapes fit by the one-size solution.
SPECIALLY FEATURING
web straps from heavy duty nylon
bio foam full mesh back
spring action carabiner clips [stainless steel]
ladder system locks [stainless steel]
universal option to fight up to [including] 50-lb tackle
Offshore Fishing Fighting Belt, Pellor Fishing [Rod Holder Pole Bracket] Review

The most reasonably priced option, salt water proof, made of high-strength and ultimately lightweight materials, all this being done for the extreme durability and longer service life.
The special EPE padded PVC mesh material applied when engineering this model should be stressed, since it provides for the more comfortable anglers' experience of fishing.
The most attractive function is, of course, the in-built ability to easily adjust to mostly all the required and possible comfortable positions an angler may need. This feature is actually enabled by the function of the unique braided-form rope belt that has a fixed safety clasp, the latter being adjustable in accordance to the various body shape/size (suitable waistline within 80 cm – 126cm / 31.5-49.6inch range).
Perfect both body and fishing rods protection as well as outstanding safety characteristics.
Pros:
extremely durable and light-weight materials used, corrosion-free, salt proof
life-long service life
special EPE padded PVC mesh available
extreme comfort and better fishing experience granted!
quick-and-easy adjustable belt; most comfortable positions fit
special braided-form rope belt and safety clasp fixed on it, freely adjustable to various sizes and body shapes (suitable for waistlines from 80 cm up to 126cm / 31.5-49.6inch).
perfect body and fishing rods protection
advanced ergonomics
Shoulder Harness, Williamson Fighting Review

Whenever you are out for your epic battle with large game fish, this ergonomic and extremely comfortable option will become a day-saver!. Moreover, the ultimate comfort is enabled by its special design EVA cushioned 600D construction (nylon) featuring the breathable mesh inserts for better and efficient ventilation. The webbing is rather strong, since it is made of strong nylon with reinforced [double] stitching. There are handy ladder locks of stainless steel and special reel [spring-action] lug clips. Also included are the jigging strap and a handy mesh storage bag for your best comfort and positive experience.
If used together with a rod belt, this Williamson's Fighting Shoulder Harness would spread out the intense pressure while fish battling from the angler's hips to his upper back area, thus providing for lower overload on your body.
Pros:
EVA nylon construction [cushioned 600D] with ventilation mesh inserts for your comfort and safety
reinforced webbing with double strong stitching on nylon
ladder locks and reel lug clips [spring loaded action] from stainless steel
included are a specially designed jigging strap and a handy storage mesh bag.
Final Thoughts
To be honest, a true giant or huge fish game angler is literally obliged to own his ultimate fish-fighting harness since the very moment he undertakes going after large tuna or giant marlin! The styles reviewed above are currently considered the best anglers' choice, being impressively used by the most authoritative champions of the time.