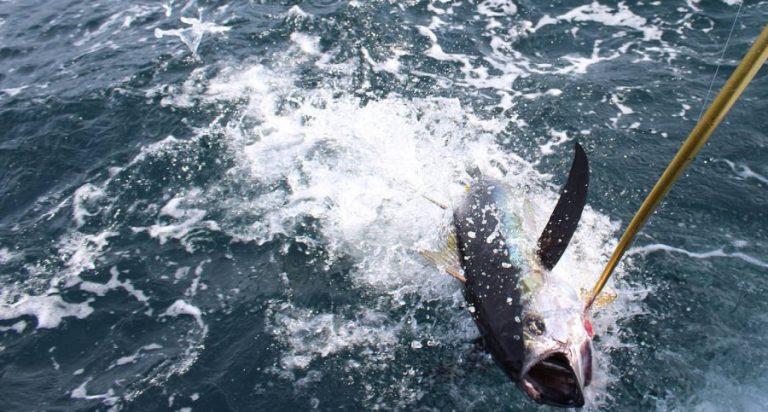 What is a Gaff Hook
A gaff, in fishing, means a pole handle with a sharp hook attached on the end of it. This is widely used to stab big fish, and after that to lift large fish either onto shore or into the fishing boat. When using gaffs, there would be several things you have to think about.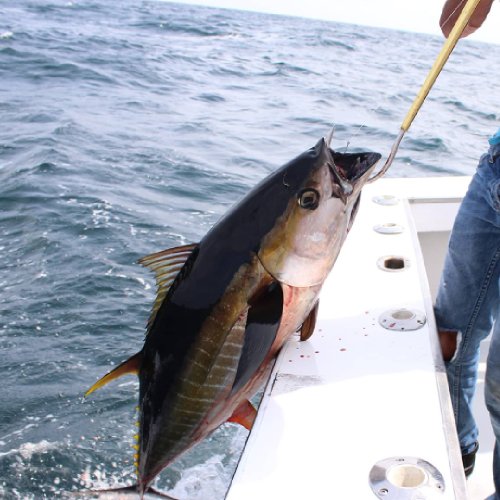 This means gaffs to be used should have the appropriate parameters, the latter depend on the type and weight of the fish you are targeting on as well as the height of your fishing boat freeboard.
As a matter of fact, gaffs come in a variety of sizes and types. Most often, the leading companies offer their popular models with gaff handles made from different materials. Aluminum or fiberglass as the materials used to manufacture fishing gaffs got recently their advocates though.
There are two main classes used by both professional and recreational anglers: for kayak fishing, for fishing from a boat (Fishing Gaffs and Flying Gaffs) and for winter fishing.
These are separated by their basic design: there are solid, folding and telescopic options offered. When fishing from a schooner having high board it often occurs the problem: it's hard to use a harpoon dart on large fish. Strong elongated models from leading manufacturers will be your best choice in such a case. Here is the list of options to choose from: AFTCO, Top Shot, Sea Striker, Cuda, SANLIKE, HT.
TOP 5. Best Fishing Gaffs at a Glance
Pick The Top Fishing Gaff
10 Best Fishing Gaffs Compared:

#
Preview
Product
Price level
Details
1
Aftco GFA354LGLD
Gaff Hook 4-Feet
by 3-Inches, 3/4-Inch
Outer Diameter at Butt
$$$$
Dimensions: 47.2 x 3.9 x 1.2 inches
Weight: 1.14 pounds

Taper-Tip Aluminum Gaff
Stainless steel hook

Great Fishing Tool!
2
Cuda 4-Foot Carbon-Fiber-Gaff
with 2" Hook
$$$$$
Dimensions: 49 x 4 x 1 inches
Weight: 11.4 ounces

This is a Great Product!
3
Kill Fish Hand Made
All Natural Calcutta
FishingGaff

Available sizes:
3-feet, 4-feet,
5-feet, and 6-feet
$$$
Dimensions: 3-feet
Diameter: 2"
Weight: 1.3 pounds

Bamboo handle
4
Sea Striker SS348
Silver Anodized AluminumGaff
3-Inch Hook
4-Feet Handle
$$
Dimensions: 56 x 5 x 1 inches
Weight: 1.4 pounds
5
American Fishing Wire
3-Inch Stainless Steel Hook
with Aluminum Shaft
and Foam GripGaff
$$
Dimensions: 4-Feet
Weight: 3.8 pounds
6
Promar GF-301
Telescopic FloatGaff
29-46-Inch
$$
Dimensions: 28 x 4 x 1.5 inches
Weight: 1.1 pounds

Made of a high-grade stainless steel
7
HalbeyGaff
$$$
Dimensions: 24 inches
Head diameter: 2 inches
Weight: 1.9 pounds

Great design
8
Hurricane Performance
EngineeredGaff
with 3-Inch Hook
3-Feet
$
Dimensions: 3-feet
Weight: 13.6 ounces

Compact tool

9
SANLIKE FishingGaff
29" to 79" inches
Stainless Steel Gaff Hook Aluminium
Alloy Telescopic Pole with EVA
Handle for Saltwater Fishing
$$
Dimensions: from 29 - 79 inches
Weight: 1.2 pounds

Lightweight
10
KUFA Sports TelescopeGaff
$
Dimensions: 46 inches
Weight: 1.1 pounds

Durable extendable Handle
Length
The most versatile come the models having gaff handles ranging from 4 to 6 feet and a hook from 2 to 4 inches, made from stainless steel. Long fishing gaffs often come up to 12 feet.
Material
As we already mentioned above, most manufacturers make gaff handles from aluminum or fiberglass. One for one, aluminum and fiberglass gaffs are reported as those possessing nearly similar strengths, both modifications would last for many years. Hooks are regularly made of high-grade stainless steel.
Design
Apart from the typically used fishing gaffs in the round-bent style, many other designs of fishing gaffs (like the diamond-shape hooks made by Top Shot Tackle) have gained popularity. To operate offshore, experienced kayak anglers regularly use their harpoon-style gaffs when for fish within 200 – to 500 pound weight range or even beyond.
How To Use a Gaff
Gaffing Tips:
First, make sure your gaff hook is positioned face down and toward the boat; the fish in this situation is actually brought alongside;
Second, lead the fish! Note that refraction of the water usually makes the fish look more forward than they actually may be;
Bury the gaff in the fish, into the forward shoulder, make sure it is not the tail end; You must always aim for the top of the fish, which means actually toward the head. Do like this for more control and to protect the meat, of course;
Once a fish is on your gaff, you should either back off or disengage the reel;
Never attempt to gaff a fish too deep and beyond your sure reach. Try to remain always patient, and usually choose for your clean shot;
While getting ready for the gaff, never lift the fish's head out of the water;
Basically, look for a high quality gaff to purchase. Remember that there is no compromise!
Flying Gaffs
The fact is, anglers who target marlin, shark or tuna efficiently use a popular gaff modification called a "flying" gaff. This specially designed gaff is in all cases provided with a special long rope that is tied to the base of the gaff hook, that is on the end of the gaff.
How To Use a Flying Gaff
To be specific, a "flying gaff" is a kind of a specially designed gaff widely used by expert anglers to subdue, secure and control very large fish. The hook part of this type of gaff (referred to as "the head"), like a harpoon's dart, functionally detaches as soon as any sufficient force has been used on it. The head usually remains secured to a fishing boat with a heavy rope or a cable.
How To Tip
Flying gaffs are regularly used by all experienced offshore anglers.
tie the rope to a steady boat cleat/buoy float it with the purpose of further bringing it inside the boat;
your flying gaff hooks should be not longer than one-third of the potential fish width;
a fish being about 2 feet in width needs about an 8-inch hook to be used;
a gaff will last for many years when you only gaff fish that are ready.

Caution!
Remember that as soon as the fish is gaffed, a quick jerking your pole will detach the gaff's hook. This action would leave your fish with the gaff hook in it. And you would remain with the other end.
Should you lever the handle against a gunwale or boat's chine or when using the gaff of a wrong size, then expect to have unpleasant or annoying failures.
Best Ice Fishing Gaff

When going for your ice fishing in winter, your gaff should be your reliable tool. There is no place for a compromise.
Of course, during the open water season you can use a landing net. In winter it is simply no option to put it in the hole.
A gaff will make possible taking your desired trophy out from the hole without touching the sharp teeth and spiny fins of the fish with your hands.
Pick The Best Ice Fishing Gaff
SANLIKE Ice Fishing
Telescopic FishGaff with Stainless
Spear Gaff Hook of Saltwater
Offshore Ice Tool, Aluminium Pole
and Soft EVA Handle
Celsius HG-1
Ice Fishing Gaff
Orange/24
HT Enterprise Polar Gaff
with Treble Hook and Ruler
Yellow, 24-Inch
17.32 inch - 55.11 inch
24,5 inch
24-Inch
From 20$
From 17$
From 10$
How To Use a Ice Fishing Gaff
Put the fish head in the hole;
Lower the hook into the hole and put the hook under the gill cover;
Gently pull the fish, without loosening the tension and without making sudden movements.
How To Sharpen Gaffs
As a matter of fact, anglers tend to use the number of different techniques if they need to sharpen their gaffs. Some of them just put it in the vice and hand file it with a fine metal file. The other use their Emery cloth for a cone since it keeps the shape easier, also a sharpening stone is widely used, like on hooks. They even use a Dremel with grinding disk kit to achieve their ends. Reported are some simple techniques with a belt sander (fine grit black belt). It usually depends on the specification, situation, angler's skill and experience.
To tell the truth, a gaff often gets dull and out of use, thus we recommend to sharpen gaffs for taking an advantage of them. The right thing to do will be sharpening your hook on a regular basis, meaning after each use. It would be far better than to wait until it is blunt and needs to be restored. Read on to learn the How-to.
Instructions
Place the gaff into the vise or clamp it. Use your work bench, positioning the hook along, facing upwards, and then secure it appropriately;
Now start sanding the gaff hook using a piece of sandpaper;
Then file the tip over on a particular hook, making sure to apply the same volume of pressure to any angle of the hook. File down the particular tip, making sure you are keeping the tip cone-shaped as long as you go;
Sand the tip down all over again to remove any remaining burrs or metal scrapes;
Remove the hook from the vise or clamps, store the gaff safe until your next use of it.