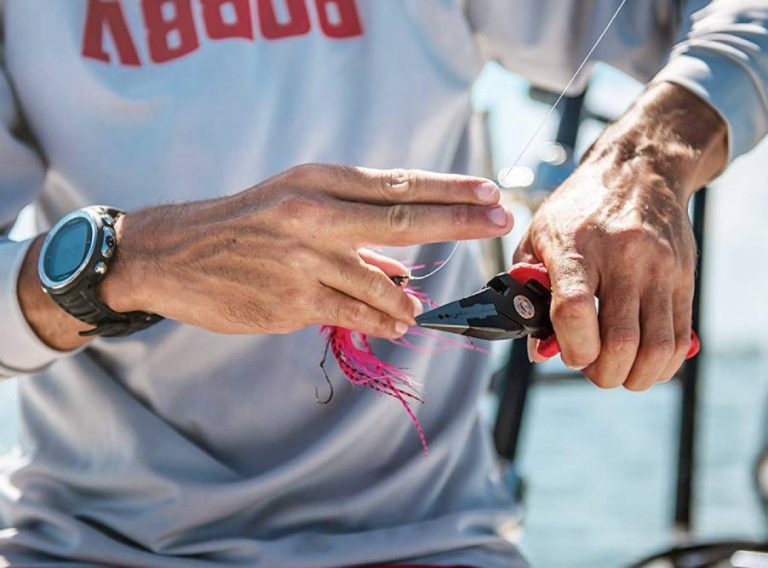 There are so many excellent fishing pliers at the market. Fishing pliers can come in an ultimate and a handy tool into your angler's gear to be efficiently used for multiple tasks; this would also come extremely suitable while going for bass or salmon; the tool will prove a necessary item when catching from a boat, at sea or ice fishing. The experience proves, an angler would face multiple occasions to clamp or release a sinker, change a split ring or release a hook stuck in the clothes. Quality fishing pliers can easily handle any on these extremes list.
Fishing Hook Removal by Pliers

Special long nose fishing pliers will help you to easily remove a hard bait wobbler or a lure spinner/spoon from the mouth of a predator, thereby not injuring your hands.
Modern multifunctional pliers are designed for heavy loads and operation in harsh conditions. Some of them have the special design shape for crimping fishing snell or removing split rings.
There is a pointed tooth on the frontal jaw with which the split rings are usually opened. This is done with the purpose to insert a ring of the hard bait, a carabiner or a snap swivel in between.
Any crimped connections on tackle is performed with pliers too. This is regularly done by another part of the pliers' jaw, utilizing the special crimping notch on it.
10 Best Fishing Pliers of 2019 at a Glance
Below we've assembled for you the rating list of the top ten fishing pliers of our choice to help you out.
What are the best saltwater fishing pliers?

The main difference here is its corrosion-free action. Conventional pliers will rust shut soon, that is quickly become unfit. The ultimate option will be your very special offshore saltwater fishing pliers. These will serve as your life-long reliable day saver with no failure.
Another occasion to admire the fishing pliers will occur while deep sea fishing. Then you will spot your special fishing pliers to come in extremely handy. Let you remember that apart from cutting the fishing line, specially engineered fishing pliers tongs allow you not only to remove the hooks, seated in the mouth of the fish, but also carry out many more additional operations.
Manley Professional – Best saltwater fishing pliers.
Who Makes The Best Saltwater Fishing Pliers?
Whenever you go on your saltwater fishing to get the epic catch, be sure you've got a pair of reliable fishing pliers to save the day. It is not that easy to pick a perfect tool at once, although to choose from the major brands would be a clue. Should you choose from one of the notorious fishing pliers manufacturers as below, you would never regret your choice.
Here are the major brands to choose from: Manley, Buck Knives, Bubba Blade, Piscifun, PLUSINNO, Booms Fishing.
Best Split Ring Pliers for Fishing

The tool jaws are very narrow, so they can be inserted into any ring. Squeezing the ring and inserting the ring of attachable equipment in between should be performed by the same pliers and thus the connection needed can be easily assured. It can't be perfectly done with bare hands, especially when it is cold outside (winter spinning, for example). The ring usually slips out of the fingers, it often falls and is getting lost. The best fishing pliers will perform perfectly in such a situation!
Booms Fishing L1, Piscifun, PLUSINNO, MadBite KastKing – Best split ring pliers for fishing.
Best Fly Fishing Pliers

As a matter of fact, fly fishing means the fishing technique when angler uses "flies" – artificial bite in a complex with specially designed and equipped fly rods to catch fish. The purpose is to imitate the live insects movement. This is done to in order to fool the fish.
The basic difference of this approach lies in the fact that here anglers tend to cast lightweight objects on a heavy line instead of doing this with heavy objects casted on a lightweight line, as it is with the most conventional techniques popular with anglers.
This way is generally concerned as that being more aesthetically pleasing to cast a line, provided that an angler knows his way and how to make it fly. No doubt, you will need some special sort of fishing pliers to add to your fly fishing gear. Read on to learn more.
Cheeky Fishing – These are the best pliers to be used while fly fishing to handle your tackle.
Best Ice Fishing Pliers


For lovers of winter fishing, the pliers reviewed will make it easy to either unscrew a frozen ripper blade on your ice auger or to straighten an open hook on a fish tackle or a lure spinner/spoon.
Best ice fishing pliers:
Manley Professional, PLUSINNO and Buck Knives 0030RDS.
Best Fishing Pliers for the Money
An expert angler usually seeks the most advanced solution available on the market. This does not means you have to spend a fortune on your favourite fishing pliers. The variety of these available with the major brands provides for your best but comparatively inexpensive choice! Consider your options and choose from the best options for your money! Have a nice catch!
Piscifun Fishing/Split Ring Pliers – Best aluminum inexpensive pliers on the market. Enjoy both the reasonable price for any budget and their extremely productive performance.
Best Stainless Steel Fishing Pliers
It is highly recommended to look for some durable and lifelong materials capable of withstanding any rough conditions or extremes. That is you do need a stainless steel option when making your choice. First, consider the models made of high grade stainless steel.
PLUSINNO Stainless Steel Fishing Pliers – Unique needle-nose quality construction, corrosion-free action, great performance fishing pliers with needle-notch option.
Best Needle Nose Pliers for Fishing
A reliable pair of needle nose pliers will prove efficient when there occurs a necessity to insert the nose to where it would be impossible either by hand or by other tool. It will keep your hands safe and uninjured while doing a perfect job!
MadBite KastKing – Best Needle Nose Pliers.
P-Line Adaro – An option to go on every budget, ergonomically and functionally perfect solution.
Tools, Materials and Must Have Features
All pliers should be made from non-corrosive metals (titanium, aluminum, and stainless steel body);
choose from exclusive quality (tungsten carbide or steel) cutters options;
look for the models that feature their spring loaded action option.
You bet you want pliers that would never rust shut for sure. Then choose some stainless steel and aluminum, so it would be a good choice to choose from stainless steel and aluminum constructions. Keep off from the chip, that is look for some 420HC Stainless Steel or some aluminum alloy of the aircraft-grade option. So, consider the material your pliers are made from first!
You should also choose from the models having almost all the below:
Line Cutters are the must-have feature, especially if you are cutting a lot of braid and fluorocarbon. Look for a sharp pair of cutters!
Side Cutters should be included into your pair of fishing pliers to easily cut off the strong shank of a hook if stuck in your clothes or even flesh, that is your cutters should be a kind of beefy to go thru all that!
Nose Length of the pliers is critical, since you always need to do deep hook removals. This will definitely and proportionally depend on mostly which species you are usually after. All models of saltwater pliers should have some longer nose – because you typically deal with the fish that is toothier and larger.
Reliable Grip is what you need most of all, all because of the permanent water contact, sticky fishing lure, fish slime residues, etc. You will need pliers with the integrated molded grip handle since these are more secure and controlled by your hand.
Split Ring Tool is just another option to have in mind when making your choice. This one is usually a bonus feature, although it can come in really handy – in case you have to change or swap a treble hook. Mind your favorite lure! Without it, you are going to end up with hooks opened by your fingernails!
Crimper would be a perfect tool to make all the crimped connections on your tackle, so then look for the crimping notch pliers!
Lanyard is a usual gimmick with all the expensive fishing pliers. Look for this especially if you are a kayak angler or battle fish on big water – there an accidental wave can anytime pitch your boat.
Fishing Pliers Reviews
Bubba Blade Fishing Pliers Review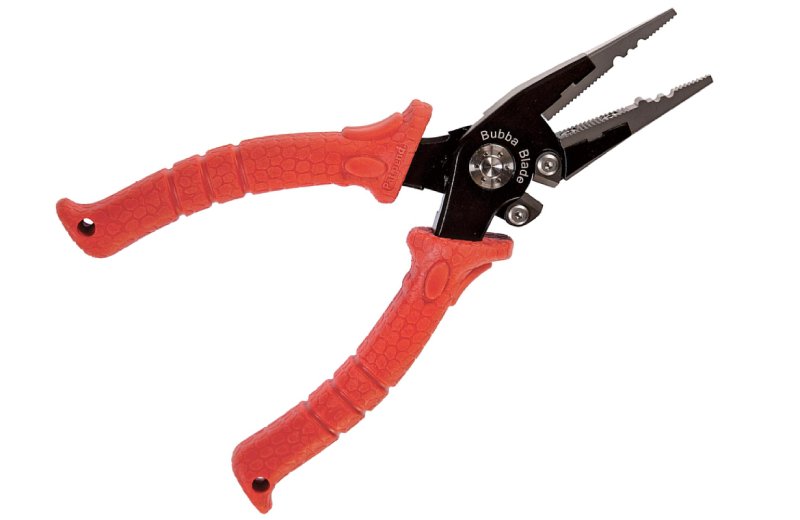 You have definitely already heard of Bubba Blade, since they have made their grippy fillet patented knives now available for anglers practicing harsh saltwater fishing. You just have to feel its excellent grip while benefiting from the handle of strong extremely durable aluminum handle as well as enjoying the ultimate function provided by the tough cutter made of cobalt tungsten! This item is well worth of being added to your backpack.
Pros:
optimal size and dimensions: 7.5" overall length compact, 2" jaws
extremely easy to use and handy in need: just try this to ensure the efficient, safe and quick removal of the hooks or replacing some treble hooks when handling your favorite lure when out for the big game fish
get your very own and reliable one: examine the non-slipping handle due to the unique Bubba Blade Non-Slip Grip patented design; your pliers will never drop off the grip and stay anchored in your hand, be it wet or not!
engineered as highly-durable item: manufacturer used the special aerospace aluminum construction, so you can enjoy its most comfortable lightweight usability, obtaining the ultimate control over this strong, durable and reliable tool at hand!
experts admire the convenience of this model: it is all based on its Ti-Nitride coat specially applied to the blade, the latter being rust resistant to easily cut through scales; the advantage of the blade is an extra sharp tip, as well as the special belt loop to enable easy carrying option.
MadBite Lighted Fishing Pliers Review

You will appreciate this most innovative model's carbide line cutters! Grab on the really handy representative of the fishing tools with a detachable LED light that is attached to the top [arm]! The most reasonable price, and positive feedback!
Pros:
Well, the time has come to use the MadBrite lighted best fishing pliers! Whenever you use this, either as a braid line cutter or standard fishing pliers, enjoy the action of its LED bulb (ULTRA BRIGHT 18000 millicandela) that will direct the incredibly bright light beam – right onto the spot you are working on; you can turn on the light by a quick twist of your finger!
lifelong service due to the incredible durability option. You'll get your aluminum fishing pliers equipped with powerful light to feel comfortable at night while hook pulling or braided line cutting, the tool will provide for your multiple faster and, which matters even more, cleaner cutting with sure optimal force to make the crimping operation easier!
actually, no true rivals to the MadBite hard fish pliers and fishing line cutters made from anodized aluminum. The tool will ever stay bright, no fading or decay, that is the pliers would definitely outlasts many other brands! Not last is that it is featuring a tool to maintain split rings, the parts and components are made of stainless corrosion free steel to efficiently resist the salt water impact
actual lightweight [6.5 ounce] aluminum used by the manufacturer based on the brand-new revolutionary aerospace technologies to allow for your quick hook removal. 5-year manufacturer's warranty granted!
available as a spring-loaded option; the model has been well-constructed to perform ultimately and highly benefit from its super sharp carbide cutters from tungsten as well as those of the silicone non-slip action grip handles to enormously compete with any rubber or plastic handles like in less expensive models from other brands. Silicone prevents the handles from slipping, retaining bad odors, and corrosion!
pack and go with your MadBite pliers for your mad wade fishing, extensive kayak fishing, surf fishing, or night bank fishing. It is compact, yet provides for the better and stable grip, available in a variety of colors. Standard [LR41] batteries to be used; these are included to the pack.
Piscifun Fishing/Split Ring Pliers Review

Best budget option to pick from the cheap aluminum pliers row, although the most sharpest and extremely efficient!
Stay on your budget with efficient solution! This model is extremely popular based on its reasonable cost, as well as you will find almost all the above features characteristic of the more expensive items. A smart way to add the handy tool to your fishing arsenal that fits the angler's needs. Fish on! Experts say, Piscifun has come with their revolutionary sharp pliers demonstrating some great level of detail and the attention to anglers' needs, at the same time these were engineered with the idea of coming up with the lightest pair of pliers to equip anglers going for fresh- or saltwater fishing. With these you can easily cut through the fishing line which can be toughest braided. You'll love its highly efficient but smooth operation – all that is thanks to the unique spring integrated into the pivot. Will be great for kayak anglers to add to their fishing gear!
Pros:
formidable smart-and-easy hook removal function
made of the anodized aluminum that is anti-corrosive and the aircraft-grade
spring-loaded action; opens freely and controlled by one hand
stainless steel jaws [titanium coated] having the split ring tip to split rings and remove stuck hooks
fully replaceable, really sharpest cutters specially engineered from tungsten carbide to easily cut even through the strongest braided lines, heavy mono filaments etc.
optimal carry-around option; get the nylon sheath together with coiled lanyard and special belt loop to attach it to your belt. The most convenient model to easily be secured with you.
Booms L1 Fishing Pliers with Belt Holder Sheath Review

Meet the best and the most versatile fishing pliers to demonstrate its perfect all-in-one performance each time you use them while fishing, hunting, camping or seek an option to solve your everyday or extreme tasks. All parts and components to these are proudly made from hardened stainless steel. As an extra feature, you will find here a split ring hook on one of the jaws. Use the pliers to easily crimp and grip, while maintaining or assembling. Included are the specially designed cutters, a knife, as well as a Phillips screwdriver, a bit driver, a flat screwdriver, a can opener, a bottle opener, a professional 3-sided file, a saw, and, finally, a hardwire/cables cutter, that is all in one.
You should note, all parts and components are all-fold items, with the hardened plastic coating applied to, say, handles, – all to just make your grip firm and provide for your ultimate control and maximum comfort! The pliers are available in blue and in black, both come with a sheath from nylon having the special belt loop clap, as well as the coiled lanyard.
Pros:
corrosion resistant pliers, the L1 model is made from anodized and fine polished stainless steel; the feature provides for the extensive lifelong use service, but keep an eye on your fishing gear and take care of it!
special thickening jaws of the multitool type to efficiently split ring or grip, cut lines and your crimp lead etc due to the unique [integrated] high frequency stable functional principle and design
extremely easy and handy both to use and keep/carry
manufacturer's lifetime warranty
Manley Professional Saltwater Fishing Pliers Review

These ones are as long as 7.5 inches and crafted from high-quality anodized aluminum and stainless steel of the high-grade, both providing for the best protective coating of all working surfaces, prevent rust and corrosion, in other words these are a tricky thing to use while fishing in all types of water.
These are a universal, ultimately sturdy and highly accurate fishing pliers made of aluminum and fishing pliers from stainless steel to solve your multiply tasks, starting from handling your favourite fishing line, maintaining or removing the hooks, handling other gear and up to many accidental application on the water. A special note should be taken, since the pliers are engineered as those with special surface coating to protect them from rust and enable the maximum efficiency multi-purpose performance. The model comes available with the free lanyard and special holster, so the tool can be easily attached to angler's clothing or any other gear. In other words, the pliers are at ready at the same very moment you need them!
Pros:
reasonable price, best quality, durability and highly efficient performance
spring-loaded handles with comfortable and firm grip option
tungsten carbide cutters specially engineered to cut through any line (braided lines)
come with sheath; coiled lanyard included.
Lix&Rix Auto-open Rustproof Fishing Pliers Review

These handy pliers are as long as 6.7-inch to efficiently contribute in your victory over the big-prize fish!
As it has been noted by anglers, the pliers are a compact lightweight design. This gives you a perfect opportunity to attach or keep with you while packing your fishing gear to the backpack, as well as keep them at hand to instantly use when needed. All users noticed their great cutting ability – as they say, the pliers cut braid- and mono line outstandingly! Universally engineered they are a must for any boat – salt water- or freshwater as an actually ideal tool to maximize your comfort.
The most positive feedback we've got on their explicit rust-free action – even extensively used on salt water, the pliers did not show any sign of abuse or corrosion!
No doubt, their performance is even greater thanks to the spring-loaded action, you'll realize very soon the couple of specially positioned bearings make the use of the pliers smooth and almost non-stop!
Pros:
featuring its unique automatic opening function enabled by the spring bearings positioned on two sides so that you can easily open your favourite pliers with just one hand
lightweight handles made from space-grade aluminum to benefit from, ergonomically designed for comfort and durability. The stainless steel jaws are from included together with tungsten carbide line cutters to be efficiently used on all types of lines and hooks to be even cut/removed
universal freshwater and saltwater application possible, rust-free action. Included are the handy lanyard together with the sheath with belt loop and safe storage soft pouch.
Cons:
relatively small compared to another fishing pliers
may go a bit flexible while cutting out hooks
Buck Knives Splizzors

These are the Editor's Choice fishing pliers. With the Splizzors, Buck Knives attempted to craft some most advanced and innovative tool. The effect has been achieved by the melding a kind of a multi-tool with professional fishing pliers. And they succeeded! Judging by the user reviews and positive feedback, the Splizzors are the highest quality fishing tool to become a perfect addition to devoted anglers tackle box.
Nothing more than the state-of-the-art model, a unique and highly-efficient industry highest standard demonstration. Versatile fishing scissor with nose pliers multi-tool (split shots, bottle opener etc) design. Most positive feedback from anglers, ultimate solution and a precious day-saver!
Benefit from:
Buck lifetime warranty
ultimate precision and quality
multifunctional application options
exceptional hook removal and productive scissors from 420HC stainless steel [Buck's Edge 2x] technology
availability of both split-shot crimping tool modifications – large and small, a bottle opener, and the lanyard hole
specially designed handle with grip arches [Dynaflex rubber]
nylon sheath to withstand rough service duty included to the pack
compact (overall length makes no longer than 8.5″), lightweight (8.3 oz) solution.
Cheeky Fishing 550 Pliers Review

This is the perfect opportunity to add some great fishing pliers to the gear of fly fishermen who prefer travelling light. Those who do, will love the new 550 Fishing Pliers, the latter being offered by an expert fly fishing company manufacturing these pliers –
Stainless steel tipping of the needle-nose jaws with extremely sharp, replaceable HSS line cutters will provide for the best action you could imagine. Secure and firm handle grip design, you can choose from the variety of color options – red, black, green, black or blue to match the existing gear of your dream.
Pros:
Ultimate lightweight (1.8oz)
fully-machined
included are replaceable HSS cutters and stainless steel tips
compact and handy (5.5″)
comes in the belt sheath; lanyard attached included
comparatively universal, great for your trout- or salmon fly fishing.
PLUSINNO Fishing Pliers Review

The originally designed and specially engineered PLUSINNO Stainless Steel Fishing Pliers are usually praised by anglers for their exclusive quality construction as well as their multipurpose use. The pliers are available in black only. The tool measures 7.5" in length while weighing 7.23 ounces. Featured are the stainless steel jaws with titanium coating that provides for the efficient corrosion resistance, while their unique needle nose shape keeps your fingers safe and well away from the business end. This is great when removing hooks from some toothy game. Another bonus here is the pair of side-mounted tungsten carbide cutters to smoothly slide thru any mono-, braid-, and fly line.
For best performance and efficient action also featured here are a crimping notch and a split ring tool, these to give an angler each and every opportunity to easily modify the tackle when on the water. You can enjoy the silicone ergonomic no-slip spring-loaded handle. Keep your pliers on you with the assistance of the belt sheath or attach them to your trolley, your favourite tackle box, or the deck station – all this with the help of the retractable lanyard available in the pack. The lanyard may extend as far as 40 inches having a convenient carabiner clip attached. Manufacturer's one-year warranty is granted to protect your purchase.
P-Line Adaro Review

Reasonably priced and highly efficient ergonomic and practical design.
Firm and safe grip thanks to the durable action quality stainless steel body.
Spring-loaded action performance. Also included are tungsten carbide line cutters. The Adaro comes in the nylon belt pouch; included also is strong coil lanyard. These would make a perfect valuable gift for someone new to saltwater fishing!
Pros:
Fishing sports Number One Choice
mainland China manufacture to match the US/Europe Standard Requirements
high-quality parts and materials used
reduced weight option due to the aluminum handles being machine-cut
tungsten carbide cutters included specifically engineered for braided line cut
jaws are made for their strength and durability of a coated carbon steel.
Cons:
Could feel lighter and not so massive as the previous models
made in China
may not hold up so well as stainless steel or titanium.
Final Word

Thus it becomes absolutely obvious that a pair of highly efficient, durable, universal purpose and really reliable pliers or a couple of these, which is even better to easily switch between different fishing modes and on different water, is a must with a devoted angler. All the models reviewed have been proudly engineered to fit the needs and fulfill the multiple tasks. These are multi-purpose maximal safety and comfort items to perform when needed and perfectly do the job. As it has been stated above, the advantageous feature is that of a material used while designing the pliers. In most cases it is high grade stainless steel or aluminum alloy. Waterproof sheath, a lanyard attached, special coating on the handles, lightweight and extreme productivity, all these constitute the most essential benefits for the models of fishing pliers reviewed.
So, make your choice, complete your gear, adding a pair of fishing pliers to it, and proudly share your best fishing experiences!