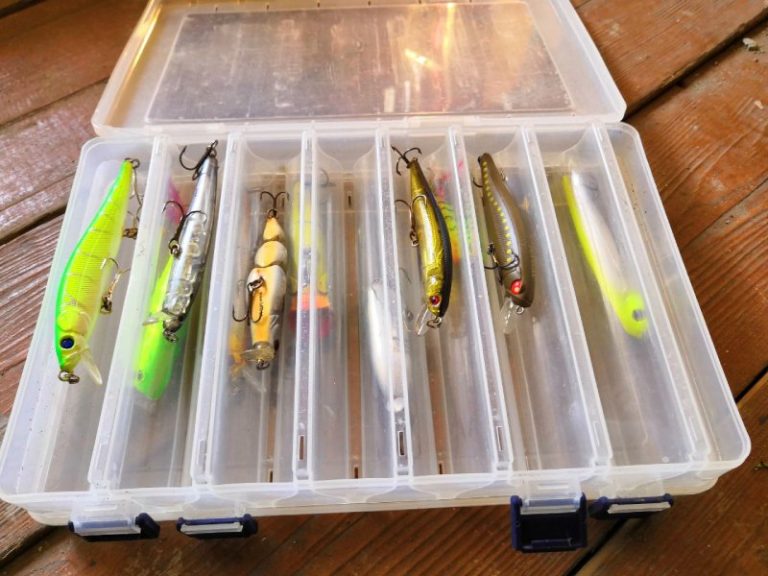 Over time, both the newbie and the experienced angler begin to think of acquiring a fishing tackle box. It's convenient for carrying tackles lures and other fishing stuff. An efficient box protects your gear reliably from various external factors.
You can put all the necessary fishing items in such special box. Boxes come in various sizes and modifications. The tackle box should be spacious, with niches and partitions inside. As a rule, the boxes are selected according to these criteria:
Low weight;
Small dimensions;
Capacity;
Convenience of carrying;
Durability;
Thermal insulation properties.
Quick Overview: 5 Best Fishing Tackle Boxes and Storages.
Plano 7771-01 Tackle Box Review

This box is a capacious tackle system measuring 21 x 12 x 12 inches and featuring several options for storage including three bait racks that are removable with a separate . The tackle storage also features top access with a DuraView lens and a large storage bin. The Guide Series provides tackle storage in a premium case.
If you fish during every season for multiple types of fish, this premium box features storage for several types of bait, hooks, leaders, lures, weights, etc. if you would rather not switch tackle storage at the start of the next season. And despite the ample variety of containers, this box is still mobile, allowing you to hold it whether you're carrying it to the boat or you're bringing it to an ice shack.
Flambeau Outdoors 6382 Tackle Box Review

This item offers sectioned-off mini-storage in eight trays with six removable dividers, offering loads of compartments for your angler supplies. Thanks to tip-guard tray supports, this box doesn't fall over when you extend the shelves.
Measuring 14 x 8.2 x 7.6 inches and weighing 1 pound, this tackle box provides a flip-top lid accessory compartment in addition to the stacked trays. A drawtite latch keeps your fishing tackle secure. Most users describe this tackle box as sturdy and well-constructed. Because of its price value, many non-anglers also purchased this little box for non-angler purposes.
Wild River Tackle Bag Review

This is a soft tackle container with a three-level LED light system illuminating your tackle and your work area when you're out before sunrise or when natural light grows dim. There's also an illuminated handle for your convenience, as well as five trays of the PT3700 size.
In addition to its five trays, this box provides an upper storage section, which can house sunscreen lotion, sunglasses, not to mention fishing tools like snippers. Along with the illuminated handle, this box offers a detachable holder for your pliers, which you can switch from bag to belt. Although this bag isn't water proof, some users have applied Scotch Guard to the canvas shell.
Plano Angled Tackle System Review

This is the premium compact box storing three stowaway boxes (3600 size) with lots of spots for storing your various tackle. The central compartment offers at an angle of 15 degrees the utility boxes.
Measuring 10 ¾ x 18 x 9 ½ inches, this tackle box offers a variety of compartments for your baits and additional tackle. You can store 6 ½ x 8 inch boxes on each side of this tackle box. While it is not waterproof, this tackle box is durable with multiple reports of no damage after flying off of moving vehicles.
Plano 2-3700 Stowaway with Adjustable Dividers Review

This option offers flexibility in your best small size tackle box. You can custom assemble the four-pack stowaways to suit your fishing needs. The dividers let you to set the box up to 24 compartments per stowaway multiplied by four. The stowaways and covers are clear allowing you to see your fishing tackle without opening each tray.
The four trays measure 14 x 9.1 x 8 inches. If you need additional divider pieces to maximize the number of compartments, Plano will send them by regular mail. Either visit their website www.planomolding.com or call their customer support at 800-226-9868.
Plano Fishing Tackle Box – Professionals Choice.

Plano is a world leader in the manufacture of fishing tackle boxes. The whole range of models of its products meets international quality standards.
More expensive versions of Plano drawers are characterized by wide functionality, numerous retractable plastic compartments for storing various fishing accessories, as well as excellent design and usability.