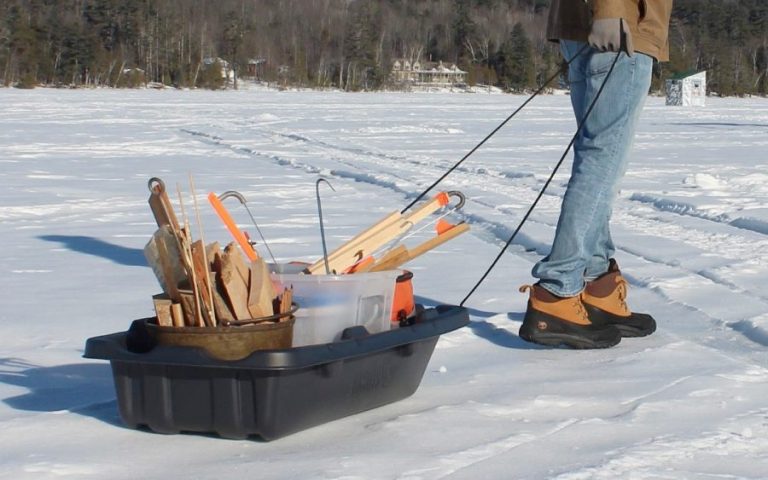 Are you looking for the best ice fishing sleds? There are several things you need to keep in mind when looking for a good sled. You need a good sled to carry all of your gear across the ice and snow, so you can get to your fishing location.
Quick Picks: 3 Best Ice Fishing Sleds

A good ice fishing sled makes it easier for you to go fishing. You won't have to worry bout a duffel bag or a backpack as you can carry all of your gear on the sled. It's a lot easier to travel a long distance with a sled as the weight is on the sled and not your back like it is with a backpack or duffel bag. You can use the sled to haul your bait bucket, auger, reels, fishing rods, heater, portable shelter, tie-ups, and much more. You have everything you need in the sled for your fishing adventure.
Top-3 Ice Fishing Sleds Compared
Why a Sled is Important
It's important to have an ice fishing sled. This is going to be the case if you plan to be fishing for a long time. If you're just going out locally to a small pond, you probably won't need a sled. If you plan to fish on large bodies of water, a sled will be ideal in this case. You may want to use a shelter or other cumbersome equipment. This isn't practical to carry around with you in a backpack. A sled makes it easier to take this equipment with you. Here are some reasons why you need one:
Portable
A sled is portable, so you can get to where you want to go with all of your equipment. You can carry a lot of weight and there is less stress on your body.
Convenience Factor
A sled is convenient as you can carry all your gear. You will have all you need right there with you on the sled.
Organize Your Trip
Ice fishing sleds allow you to organize your trip. You can lay out all the gear you need and then put it on the sled to take with you. There is no need to try and find your gear in a backpack. It's all right there on the sled and easy to access.
Extra Room
You will have the extra room you need for all your gear. A backpack is quite limiting in how much you can carry. A large backpack just means more weight and strain on your back.
Reviews of Ice Fishing Sleds
Flexible Flyer Utility Pull Sled Review

This utility sled is heavy duty and perfect for hauling fishing gear, hunting supplies, gardening tools, and more. The sled is high capacity and will hold 3 five gallon buckets. This gives you room for all of your supplies with room left over. It's large enough to haul around a couple of children or adults if you want to use it in the snow. It's made with HDPE or high-density polyethylene, so it's durable and will last you a long time. The sidewalls have a lot of durability and strength.
The sled features molded grooves on the bottom, which adds more stability and strength. You can pull it by ATV, snowmobile, or by hand. Use this high-quality sled for whatever task you need it for. It's not just an ice fishing sled as it can carry game, firewood, garden supplies, feed, and more to wherever you need it. The product measures 46 x 20 x 15. 3 Inches. The flat bottom measures 32 x 14 inches. It's lightweight at only 7 pounds, so it's portable and easy to store. The company has been making sleds since 1889 and stand behind their product. They will answer all of your questions and provide excellent customer service. This product is made in Canada by Pelican International.
Shappell Jet Review

The Shappell Jet Ice Fishing Sled is an excellent product. You can use it when fishing or for firewood, transporting game, firewood hauling, or for moving feed to a new location. This sled has a wide range of uses. It's made with rugged polyethylene, so it's strong and sturdy. The sled has added stability thanks to the molded runners. It's easy to pull by hand as it has a contoured hull. The sled has great reviews and most people that bought the sled were happy with their purchase.
The sled has 54 x 54-inch dimensions so it has a lot of room for your fishing gear or anything else that you want to carry in the sled. The sidewalls are 10 inches so nothing is going to fall out when you're transporting materials across a long distance. The sled will work on both ice and rough terrain where you need to move something heavy. You can get this sled in several sizes and shapes from the company. To improve the durability, you can order Teflon wear bars that go on the bottom of the sled. This will help protect it if you plan to take your sled across rough surfaces or need to carry a lot of heavy materials across long distances.
Terrain Sport Sled Review

This sled is the perfect choice for all of your fishing gear. It has other uses such as gardening, hunting, or for carrying around pretty much anything you need to move from place to place. Its main use is for fishing but doesn't discount its other uses. For example, it would be fun to use the sled in the snow as a toboggan down a hill. You can pull the sled by snowmobile, ATV, or by hand as it's lightweight and portable. It's easy to attach to a vehicle and to move around wherever you want to go.
It has a tow rope that is heavy duty and thick. The bottom is ribbed so you can move the sled across both smooth and rugged surfaces with ease. It's made with a high impact polyethylene, so it's strong and sturdy. This sled will last you a long time. It has a great capacity so it has plenty of room for all of your gear with space left over. There is enough room in it for a five-gallon bucket. The dimensions are 54.2 x 25.5 x 10 inches and the product weighs 12 pounds. For anyone looking for a high-quality fishing sled or a utility sled, the Terrain Sport Sled is the ideal solution.
What to Look for in An Ice Fishing Sled
You should know what you need before you go out on the ice. Take stock of the gear you have and what you need to buy. Think about how all of this is going to fit on the sled. The size of the sled will play a factor. Make sure you get on large enough for all of your gear.

Sled designs tend to be the same, but some are deeper when compared to others. You will probably need a deep sled to ensure that all your gear is secure. You will ant a sled that is made to a high quality. You will want one that is made with rigid molded plastic. Getting one with chair brackets is ideal as you can sit in the sled while you're fishing. In some cases, you may want to modify the led to suite your needs.
Conclusion
You have a lot to consider when looking for an ice fishing sled. Make sure you get one that can meet your current requirements. Spend some time and look at several sleds before you buy one.